Malaysian Ambassador to Ankara Abd Razak Abdul Wahab said Malaysia and Turkey are on the right path toward a more comprehensive and strategic partnership, while adding that such partnership will certainly mutually benefit both sides. Even though there is a geographical distance, deep rooted bilateral relations between Turkey and Malaysia started to flourish in recent years. Regarding bilateral relations, Ambassador Abdul Wahab said cooperation with Turkey continues to expand, generating greater mutual benefit for both countries while he underlined that there is already strong commitment on both sides to further strengthening relations at all levels and in all fields.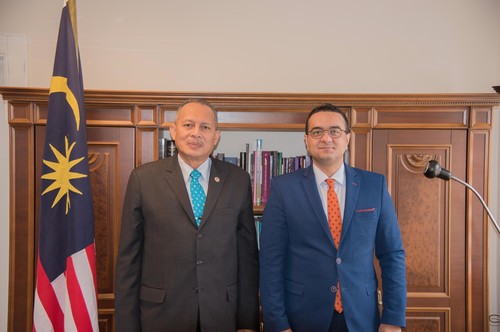 Malaysia and Turkey are countries where Islam is the most widely followed religion and both countries have been shown as proof that the Muslim faith is perfectly compatible with multi-party democracy. Commenting on how Turkey and Malaysia can cooperate in the fight against extremism and terrorism, Ambassador Abdul Wahab said that as a matter of principle, Malaysia strongly condemns terrorism in all its forms and manifestations and he added that Malaysia will assist Turkey in its fight against FETÖ, which is categorized as a terrorist organization by the (Organization of Islamic Cooperation) OIC.
Daily Sabah: Even though Malaysia and Turkey lie nearly 5,000 miles and seven time zones apart, bilateral relations roots to centuries. How would you evaluate the current level of bilateral relations between the two countries?
Abd Razak Abdul Wahab: I have been in Ankara for nine months now. I have visited a number of cities such as Çanakkale, Eskişehir, Istanbul and Konya as part of my official functions. I look forward to visiting other cities such as those in the Black Sea region and other parts of Anatolia. To me Turkey really is a beautiful country. It has many attractive places and is a root to many civilizations.
The people here are very friendly and they know Malaysia quite well. Turkey is now fast developing, becoming one of the major regional and global players.
The embassy in Ankara is an important diplomatic mission for Malaysia. I feel honored to be assigned here at a time the relations between our two countries are growing in scope and intensity. We have completed the 50th year of the diplomatic relations in 2014, which were officially established in 1964. Nevertheless, our relations with Turkey date back to the time before Malaysia's independence in 1957. Historically, the relations can be traced to as far back as the 15th century when there were already contacts and interactions between the Malay sultanates and the Ottoman Empire then.
From the 19th century onward, relations between the Malay sultanates and the Ottoman Empire remained intact, even bolstered. The records show that Sultan Abu Bakar of Johor (1833 to 1895) had close ties with Ottoman Sultan Abdülhamid II (1842 to 1918). The former made several visits to Istanbul. There were even marriages recorded in 1890 between Sultan Abu Bakar and his brother, Engku Abdul Majid, with Ottoman women. Marital relations, trade, culture, arts and others show that the strong relationship between Malaysia and Turkey started a long time ago.
Now our cooperation with Turkey continues to expand, generating greater mutual benefits for both countries. There is already strong commitment on both sides to further strengthening our relations at all levels and in all fields. The scope of these relations is therefore not limited to just between governments, but is also inclusive of cooperation between the private sectors, education institutions, civil societies and relations among the peoples of our two countries. This has been shown through the exchange of visits by both leaders in 2014, the honorable Recep Tayyip Erdogan, then prime minister and current president, undertook an official visit to Malaysia on Jan. 9-10 and subsequently, the honorable Dato' Sri Mohd Najib Abdul Razak paid an official visit to Turkey on April 16-17, 2014. Since 2014, Prime Minister Najib has been visiting Turkey; in 2015 Prime Minister Najib attended the G20 Leader's Summit in Antalya on Nov. 15-16, 2015 and in 2016 he attended the 13th Islamic Summit Conference in Istanbul on April 14-15, 2016. This was followed by visits of ministers from both countries.
As I have just alluded to, Malaysia and Turkey see each other as an important partner. I am pleased that this sentiment is shared even by ordinary people. I have said many Turks know about Malaysia. On a number of occasions, I have been told that Turks have special affection towards Malaysia and Malaysians. I would like to add that Turkey is well known among Malaysians too. Over the years many Malaysians have come to Turkey, including as tourists. Last year, around 49,255 Malaysian tourists visited this country.
Lately, more umrah pilgrimage from Malaysia will stop over in Istanbul for a few days to enjoy the Islamic history during the Ottoman period before heading to Mecca. We would like to see more Turks visit Malaysia as well. Overall, our two countries are on the right path towards a more comprehensive and strategic partnership. Certainly such partnership will mutually benefit both sides. Obviously we need to work towards that goal.
DS: Malaysia and Turkey are countries where Islam is the most widely followed religion and both countries have been shown as proof that the Muslim faith is perfectly compatible with multi-party democracy. From this perspective, how can Turkey and Malaysia contribute to the fight against extremism?
AA: As a matter of principle, Malaysia strongly condemns terrorism in all its forms and manifestations. Malaysia believes that world must continue to promote moderation, cross-cultural understanding and respect in order to fight extremism. We believe that moderates who are in fact the majority around the world in every political system, culture or religion should come together to prevail over the few extremists who also exist in every political system, culture or religion. The prime minister of Malaysia called for the global movement of moderates at the United Nations in 2011 as a way to fight extremism. Malaysia will continue to work with others in advancing this moderation agenda, in promoting discipline, restraint, acceptance, freedom, tolerance, justice and peace.
At a regional and international level, Malaysia has always been very vocal highlighting the issue of violence prevention. Since 2014, Malaysia has sponsored together six U.N. resolutions, including resolution 2354 (2017) concerning counter narratives approved on May 24, 2017.
In Malaysia's efforts to fight against terrorism and the false narrative emerging from the media, a Digital Strategic Communication Division was established under the Southeast Asia Regional Center for Counter-terrorism (SEARCCT) and Counter Messaging Center under the Royal Malaysia Police. Saudi Arabia and Malaysia will soon establish the King Salman Center for Global Peace in Malaysia.
The center will be specialized in laying the foundations of peace, tolerance values, consolidating the concepts of moderation, enhancing the positive profile of Islam, defusing the shameful accusations launched every time and then against the religion, confronting the ideologies of terrorism and extremism and spreading its message abroad targeting the wise minds of the whole world.
DS: In recent weeks, several members of the Gülenist Terror Group (FETÖ), who were arrested in Malaysia for funding Daesh, were deported upon Turkey's request. In this regard could you provide more information about the ongoing cooperation between our countries against FETÖ terrorists?
Malaysia will assist any country in its fight against extremism. FETÖ has been listed in the wanted list by the Turkish authority and also has been categorized as terrorist organization by the OIC. Therefore, our action against FETÖ movement in Malaysia is line with this position.
DS: Cooperation between our countries in the education industry is also increasing. Recently Turkey's Ibn Haldun University and Malaysia's Al Bukhary International University have partnered up with a collaboration protocol. Could you please provide more information about the ongoing cooperation?
There is a good news on education cooperation between both countries, recently on April 10, 2017, Turkey and Malaysia signed a MoU on cooperation in the field of higher education during the working visit of his excellency Dato' Seri Idris bin Jusoh, the minister of higher education of Malaysia to Turkey from April 8-11, 2017.
Under the MoU, both countries will promote co-operation in the field of higher education in the areas of exchange of academic staff, teachers, trainees, experts and students; exchange of information and educational literature; training of teachers; scholarships; bilateral programs, credit transfers, assisting each other in the ICT, technical vocational education and training (TVET), online learning and entrepreneurship; and exchange of experience.
Malaysia supports any cooperation in the field of higher education that is mutually beneficial for both countries especially between higher education institutions, inclusive of polytechnics and community colleges, and other areas of common interest.
Currently, there are 276 Malaysian students studying in various provinces in Turkey, with a majority of them studying in Universities and institutions in Istanbul. About 71 students from Malaysia have received a scholarship from the Presidency for Turks Abroad and Related Communities (YTB). The Malaysia government is very thankful to the Turkish government for the sponsorship.
Malaysia has been providing both short and long-term courses, study visits and practical attachments in areas where Malaysia has expertise to Turkish civil servants under the Malaysia Technical Cooperation Program (MTCP). The MTCP was officially launched on Sept. 7, 1980 at the Commonwealth Heads of State Meeting in New Delhi, India, to signify Malaysia's commitment to South-South Cooperation, in particular technical cooperation among developing countries. The program forms part of the commitment of the Malaysian government towards the promotion of technical cooperation among developing countries, strengthening of regional and sub-regional cooperation, as well as nurturing collective self-reliance among developing countries.
Annually, more than 80 MTCP programs are offered by 80 MTCP training institutions/agencies, many of which are centers of excellence for training. Since its inception, more than 32,000 participants from 143 countries have benefited from the various programs offered under the MTCP.
DS: How would the possible engagement of Turkey in regional initiatives like ASEAN contribute to bilateral relations?
The Association of Southeast Asian Nations is made up of 10 Southeast Asian countries namely; Brunei, Cambodia, Indonesia, Laos, Malaysia, Myanmar, the Philippines, Singapore, Thailand and Vietnam. ASEAN has 10 non-ASEAN dialogue partners: Australia, Canada, China, the European Union, India, Japan, New Zealand, Russia, South Korea and the U.S. Non- ASEAN countries could also be sectoral dialogue partners, development partners, special observers and guests.
Turkey's economic, political and cultural ties with ASEAN members have been steadily growing over the last decade. Turkey established institutional ties with ASEAN in 1999. Turkey and ASEAN signed the Treaty of Amity in 2010 which was a turning point in Turkish-ASEAN relations. Turkey pays special attention to developing its relations with ASEAN. For that, Turkey has taken the initiative and applied to be "Sectoral Dialogue Partner" of ASEAN.
Since 2013, Turkey is participating in the ASEAN Leaders' Summits and Foreign Ministers' Meetings as a guest country on the invitation of the ASEAN Presidency. Former Prime Minister Mr. Ahmet Davutoğlu, in his capacity as foreign minister, participated in the related events of the 46th ASEAN Foreign Ministers' Meeting in Brunei as a "Special Guest" in 2013. The Turkish deputy minister of development represented Turkey in the 47th ASEAN Foreign Ministerial in 2014 in Naypidaw (during that time Turkey was having presidential elections). Foreign Minister Mevlüt Çavuşoğlu participated in the ASEAN Regional Forum Foreign Ministers' Meeting in 2015 as a special guest of ASEAN, chaired by Malaysia.
Diplomatic ties between Turkey and ASEAN countries have steadily expanded in recent years. Turkey has embassies in nine ASEAN countries and is planning to open an embassy in Laos. Seven ASEAN countries have embassies in Ankara. Singapore opened its embassy in Ankara in 2012 and Brunei in 2014. Recently, Turkey also opened embassies in ASEAN members namely Myanmar (2012), Cambodia (2013) and Brunei (2013).
Turkey has a trade volume of $8.8 billion with the ASEAN in 2016. The increase in trade between Turkey and ASEAN has quadrupled in the last 10 years.
There have been many analyses about a position of Turkey being a gateway not only to Europe but also to Central Asia, Middle East and North Africa, while Malaysia is a gateway to Asia, particularly the ASEAN region. I would say it is a reality. That is why I believe the business communities should take advantage of this special position that Malaysia and Turkey respectively have. ASEAN, which comprises 10 member countries that have a population of 625 million people and a collective GDP of $2.5 trillion a year ago, is a fast growing powerhouse for global economy. ASEAN became a community at the end of 2015, during Malaysia's chairmanship. It is moving towards becoming a single market with many economic potentials waiting to be explored.
We believe that regional integration is structure for the smooth flow of international trade. As such, regional trade liberalization contributes to the liberalization of global trade. ASEAN and Turkey offer great opportunities in terms of further developing economic commercial ties. The "Sectoral Dialogue Partner" status of Turkey will significantly improve the possibilities of furthering economic cooperation in various fields.
DS: As you know Malaysia-Turkey Free Trade Agreement (FTA) came into effect in 2015. What is the impact of this FTA on economic relations between our countries?
In terms of economic relations, the Free Trade Agreement (FTA) signed between Turkey and Malaysia on 17 April 2014, during the visit of the Honourable Dato' Sri Mohd Najib Abdul Razakto Turkey on 16-17 April 2014 is of utmost importance. The Agreement entered into force on 1 August 2015. I hope the implementation of the FTA, coupled with continuous efforts to increase bilateral trade volume, both sides would together achieve the USD 5 billion trade target of by 2020 or sooner. We have seen a significant improvement in the total trade after the implementation of the FTA. The total trade between Malaysia and Turkey was recorded as USD 1.69 billion in 2015 and jumped to USD 2.32 billion in 2016. In 2015, the total trade growth was recorded at 36.8 percent and 14.9 percent in 2016. Turkey was Malaysia's 31st largest trading partner in 2016, rising ten notches from its 41st place in 2015. The business communities in both countries should continue to be sensitized of trade opportunities and potentials that exist in our two countries.
DS: Total trade volume between the two countries is about $2 billion. Do you think this figure reflects real potential and from your point of view, which steps should be taken to enhance economic cooperation?
As you know, trade isn't the only way to improve economic relations between our two countries. Investment is another crucial component. Malaysia currently ranks among the top five major investors in Turkey from among East Asian countries. The Turkish investments in Malaysia are relatively low for the time being. We would like to see more investments from Turkey. We continue to encourage Turkish investors to take advantage of the very conducive environment and investors-friendly policies and facilities offered by Malaysia. I personally believe that the investment balance should be achieved between Malaysia and Turkey. Tourism is also an important sector where our countries can work together to enhance relations. Like Turkey, Malaysia is also a popular destination for tourists. We would welcome more tourists from Turkey to explore and experience the many enchanting touristic places and hospitality Malaysia has to offer.
Presently, Turkey is home to a number of Malaysian companies including Khazanah's Turkey Regional Office which is involved in a number of Turkish investments amounting to USD2.63 billion that include equity ownership in Acibadem Hospital, Sabiha Gökçen Airport and Acıbadem Health Insurance.
Felda FGV also has presence in Turkey via FELDA IFFCO with the investment in downstream manufacturing of palm oil products valued at $20 million. The recent investment was from TenagaNasionalBerhad (TNB) with its acquisition of 30% of Gama Enerji equity valued at $255 million. This shows that Malaysian investment in Turkey is diversified various sectors that includes healthcare, airport management, insurance, energy and oil & gas. In addition, there are also some Malaysian companies operating in Turkey in the sectors of real estate, wholesale and retail, education and hospitality services.
To accelerate bilateral trade and investment cooperation between Turkey and Malaysia, Malaysia External Trade Development Corporation (MATRADE) via its office in Istanbul has organized numerous trade promotion activities between the period of 2012 – 2016, among which were the Malaysia Week in Istanbul, Malaysian Business Missions to Turkey focusing on different sectors namely ICT and Creative Multimedia, Logistics Services, Food, Chemicals, Franchising, Timber & Furniture as well as International Sourcing Programme (INSP) in conjunction with annual trade exhibitions in Kuala Lumpur such as Malaysia International Halal Showcase (MIHAS) and International Trade Malaysia (INTRADE). These trade promotion activities generated potential sales of more than US$300 million.
In addition, MATRADE Istanbul also organized a series of business and consultation seminars in collaboration with local chambers of commerce and trade associations in major cities such as Izmir, Ankara, Istanbul, Bursa,Kocaeli, Edirne, Antalya and Konya, aimed at creating awareness of the Malaysia Turkey Free Trade Agreement (MTFTA) among the Turkish business community.
Further, we have established Turkey - Malaysia Business Council. Mrs. Suheyla Cebi Karahan at Foreign Economic Relations Board (DEIK) is the Chairman of the Turkey - Malaysia Business Council in Turkey. Mrs. Suheyla is CEO for DORCE Prefabricated Building & Construction Industry Trade INC. Owns one of the largest prefabricated steel structure manufacturing facilities in the world. The manufacturing facility located in Ankara – Turkey, has 100.000 m2 total area (55.000 m2 workshop area) already having business collaboration in Malaysia. She has successful leda few business delegation visits to Malaysia to enhance Turkey's export to Malaysia and investment in various sectors offered by the ASEAN region.
DS: Regarding economic relations, which sectors have more potential for further cooperation?
Certainly both sides wish to see economic relations expand further in many fields. There are a good number of Malaysian companies operating in Turkey. There is strong interest by the Malaysian business community and investors to venture into profitable areas. Some areas of interest include healthcare and health insurance service providers, motor vehicles, textiles, mining, logistics and construction.As guidance for Malaysian companies and for increasing economic (trade and investment) relations with Turkey, some of the potential areas that could be explored are Construction sector, Energy sector, Oil and gas, Services and banking sectors, Import sector (main components of Turkish imports remain metals & metal products: mineral fuels & related products; mechanical machinery & equipment; motor vehicles; and coal & mineral products), Defense and security and ICT.
Likewise, Malaysia would also like to see more investments coming to Malaysia from Turkey. At the moment there is rather an imbalance in terms of investment volume between the two countries. Malaysia has a lot to offer for foreign investments in such areas as high technology, capital intensive and knowledge driven industries, including biotechnology, advance electronics, optics and photonics, pharmaceuticals and information and communication technology; industries manufacturing intermediate goods, including machinery and equipment and auto-parts; resourced-based industries, including halal foods and beverages and business and professional services, including logistics, distributive trade, education and training, construction, health and tourism.
We have cooperation in defense industry. Defense industry cooperation between Malaysia and Turkey reached it height when DEFTECH undertook to locally assemble the Turkish FNSS' ACV-300 ADNAN in Malaysia under the ACV-300's offset program signed in 2000.DEFTECH is also undertaking technology collaboration with FNSS and other leading manufacturers of military equipment. I believe the defense industry sector has very much potential for both countries to collaborate.