While the killing of a 15-year-old boy by PKK terrorists has united Turkey in condemning the heinous group, it also made the country remember hundreds of civilian who have become victims to PKK terror.
Eren Bülbül died from gunshot wounds sustained as he helped gendarmes track PKK members nearby his house in Maçka, a town 22 kilometers (14 miles) south of the Black Sea city of Trabzon, on Friday. Gendarmerie Master Sgt. Ferhat Gedik, 41, was injured in the same incident and later died as well.
Bülbül's funeral was held in the Köprüyanı neighborhood on Saturday after prayers at Maçka Central Mosque with hundreds attending the ceremony.
Locals hung Turkish flags from windows and balconies to mark the teenager's death, and a poster of Eren was also hung outside the town hall with the words: "Eren Bülbül, Maçka will never forget you. Our martyrs rest in peace."
Deputy Prime Minister Fikri Işık visited the hospital where Eren had been treated to express his condolences to the boy's family.
Kemal Kılıçdaroğlu, head of the opposition Republican People's Party (CHP), also condemned the attack.
"You are so low as to fire a bullet at a 15-year-old boy," he said in a tweet. "I wish God's mercy to Eren Bülbül and Ferhat Gedik, who were martyred in the attack."
On Twitter, thousands of Turkish people posted messages commemorating Eren with the hashtag #iyikivarsınEren (means 'glad to have you' in Turkish).
NGOs, artists, businessmen and sport clubs all over Turkey condemned terror and killing of the 15-year-old boy, in statements.
Football teams in the Turkish Super Lig will also come out onto the pitch with banners commemorating Eren and will stand in silence for one minute during the first week of the league on Saturday, Sunday and Monday, according to a statement of Turkish Football Federation on Saturday.
The PKK resumed its armed campaign against Turkey in July 2015 after a cessation of clashes. Since then, it has been responsible for the deaths of some 1,200 Turkish security personnel and civilians, including women and children.
Although the PKK is listed as a terrorist organization by Turkey, the U.S. and the EU, the U.S. continues to support the PKK's Syrian offshoot the Democratic Union Party (PYD) and its armed wing the People's Protection Units (YPG) in Syria in the pretext of fighting the Daesh terrorist group.
The group carried out its first terror attack on Aug. 15, 1984, when it attacked two gendarmerie outposts in the southeastern provinces of Hakkari and Siirt.
The civilian death toll mounted in the following months and years.
Here also some of the major massacres and attacks by PKK terrorists and its affiliate groups targeting civilians.
Mardin
Açıkyol Massacre (March 7, 1987): 6 children were among the eight people shot dead by PKK terrorists.
Pınarcık Massacre (June 20, 1987): 30 killed, including 16 children and 6 women.
Behmenin Massacre (May 9, 1987): 11 were killed, including 8 children (from the same family) and 2 women.
Haraberk Massacre (July 8, 1987): 9 were killed, including 7 children from the same family and 2 women.
Gündükörte Massacre (Jan. 23, 1987) 10 people, including two babies, were killed.
Midyat Massacre (July 22, 1991): PKK terrorists attacked vehicles carrying civilians; 19 killed.
Savur Massacre (Jan. 21, 1994): PKK terrorists killed 21 people, including 11 children.
April 23, 2011: A masked group targeted elementary school students with fireworks during the April 23 Children and National Sovereignty Day celebrations in 2011, causing panic.
Sept. 12, 2015: 9-year-old Tahsin Uray and Ramazan Ş. were heavily injured when the explosives left behind by PKK terrorists detonated in their hands. Uray died at the hospital.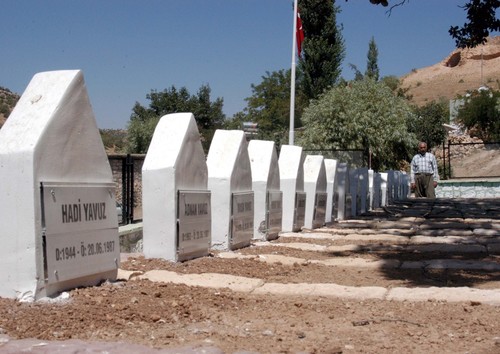 Şırnak
Ortabağ Massacre: (Jan. 23, 1987) PKK terrorists attacked a wedding party in the village of Ortabağ, killing 8 people, including 2 children and 4 women.
Çiftekavak Massacre (Sept. 21, 1987): 5 women -- 2 of them pregnant -- and 4 children were killed in a PKK raid on a village.
Çobandere Massacre (Oct. 10, 1987): 13 people were killed, most of them elderly, women or children.
Peçenek Massacre (July 8, 1987): A total of 16 people, including women and children, were executed by the group's firing squad.
March 28, 1988: PKK terrorists strangled nine shepherds with wires in Yağızoymak village in Şırnak, claiming they were village guards.
Çevrimli Massacre (June 10, 1990): 27 were killed, including 12 children, 7 women, and 4 village guards.
May 11, 2011: PKK terrorists targeted a student dormitory of an Imam Hatip vocational high school with fireworks in Cizre district. A subsequent fire also injured 3 students.
December 25, 2015: Four children were injured when PKK terrorists attacked the cultural center and public library in Şırnak
April 13, 2016: 4-year-old Hidayet Tek was killed after PKK terrorists detonated a hidden hand-made explosive in İdil province.
Bitlis
Cevizdalı Massacre (October 1, 1992): 30 people were killed, including women and children.
Tatvan Massacre (June 11, 1992): PKK terrorists executed 13 people in a minibus by a firing squad.
Siirt
Milan Massacre (August 18, 1987): The PKK killed 25 civilians, including 2 babies -- just 3 and 6-months-old. The terrorist group claimed that those who were killed were "all" gang members.
Derince Massacre (October 21, 1993): 24 civilians were killed.
September 20, 2011: PKK terrorists opened fire on a vehicle in Siirt, killing 4 young women and injuring 2 others.
Elazığ
March 21, 1990: PKK members blocked a road and killed 9 engineers and 1 worker by firing squad.
January 1, 1994: PKK terrorists stopped two buses for so-called "ID checks." They killed 8 people by firing squad.
Istanbul
Çetinkaya Store Massacre (December 25, 1991): PKK terrorists attacked a store in the Bakırköy district with Molotov cocktails, taking 11 lives, including 7 women and 1 child.
Spice Bazaar Attack (July 9, 1998): Explosives planted by PKK terrorists killed 7 and injured 121. The attackers were later caught.
Güngören Massacre (July 27, 2008): Two separate explosives planted by PKK terrorists claimed 18 lives, including 5 children, in the Güngören district. 154 people were also injured. The second blast intentionally targeted people who arrived at the scene for rescue efforts.
November 8, 2009: Serap Eser, who was a high school student, was on a public bus in Istanbul when a group of terrorists threw Molotov cocktails. She died of her wounds at the hospital after a month of struggle.
June 22, 2010: Four soldiers and one civilian were killed when a military bus was blown up by TAK in Istanbul's Halkalı district.
Taksim Square Attack (October 31, 2010): 32 people were injured in an attack in Istanbul's Taksim Square by TAK.
Vezneciler Bombing ( June 10, 2016): A car bomb detonated while a riot police shuttle bus was passing in Istanbul's Fatih district, killing 12 people, including five civilians, while injuring dozens of others. Terrorist group PKK's suicide team, known as the Kurdistan Freedom Hawks (TAK), assumed responsibility for the attack.
Sabiha Gökçen Airport Attack (December 23, 2015): TAK also claimed the mortar attack on Istanbul's Sabiha Gökçen Airport that left an airport cleaner dead and injured another, while damaging five aircraft.
Vodafone and Maçka Park Attacks (December 10, 2016): 38 police officers stationed for security of a soccer game and eight civilians were killed in TAK-claimed twin bombings near Vodafone Stadium in Istanbul's Beşiktaş district.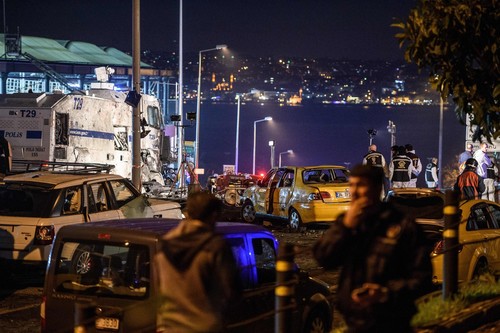 Diyarbakır
Yolaç Village Massacre (June 27, 1992): PKK terrorists raided a mosque during prayer time and killed 10 people.
Hamzalı Massacre (Jan. 1, 1995): 20 civilians were killed, most of them children, women, or the elderly.
Hani Massacre (Nov. 9, 1992): Attacking Hani district center, PKK terrorists raided homes, killing 12 people, including 4 women and 4 children.
Diyarbakır Attack (Jan. 3, 2008): PKK terrorists detonated a bomb-laden vehicle detonated in front of a prep school during a military service vehicle's passage, killing 7 people, including 6 students, and injuring 73 others.
Dürümlü Massacre (May 12, 2016): 16 civilians were killed and 23 others were injured when an explosive-laden truck was detonated as villagers tried to block its passage.
August 30, 2015: 13-year-old Fırat Simpil, who left his home to buy some groceries, was killed in Silvan district when PKK terrorists detonated explosives laden under a road.
September 28, 2015: 9-year-old Elif Şimşek was killed when a rocket fired by PKK terrorists on an armed police vehicle hit her home.
January 13, 2016: Police headquarters and residences in Çınar district were targeted by PKK terrorists with a bomb laden car, killing 6 people, including 3 children and a police officer, while injuring 39 people.
Sur attack (August 11, 2016): Baby Ceylin Naz Aydın was killed in the bomb attack in Sur province of Diyarbakir.
Ankara
Anafartalar Attack (May 22, 2007): The PKK carried out a suicide bomb attack on Anafartalar Market in central Ulus neighborhood. 9 people, including 1 Pakistani national, were killed. More than 100 people were injured.
Kızılay Attack (September 20, 2011): A bomb attack claimed by TAK killed three people and injured 34 in Ankara's Kızılay Square.
Ankara Güvenpark Massacre (March 13, 2016): PKK terrorists attacked bus stops at the central Kızılay square using a bomb-laden car. 36 people were killed and 125 others were injured.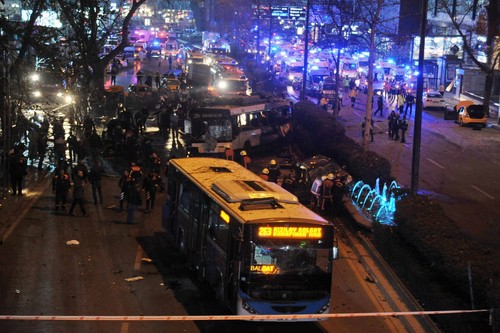 Batman
Batman - Seki Village Massacre (June 22, 1992): 10 people, including children, were killed in a raid by PKK terrorists on the houses of 2 village guards. A newborn, 1-month-old, was among the victims.
Batman (September 26, 2011): Three PKK terrorists opened fire on the family car of Talat Doru, who --along with his family-- was returning from a visit to his parents who were preparing for Hajj. Mizgin Doru, a mother of four and pregnant with another, and her 4-year-old daughter Sultan Doru died in the attack. The 8-month-old baby in the womb -- the baby boy the couple had longed for-- was rescued with a caesarean section after the incident but only lived a day at the hospital. Father Doru and one of their daughters were also seriously injured.
Bingöl
Bingöl Massacre (May 24, 1993): PKK terrorists blocked a road and stopped a bus carrying soldiers in civilian clothes. 33 unarmed soldiers were killed.
Bingöl (October 29, 2011): Hatice Belgin, who had been shopping with her three children before the Feast of Sacrifice, saved dozens of lives after noticing a PKK suicide bomber. Even though she couldn't prevent the explosion, she stopped a great disaster. She, her son Veysel and another civilian lost their lives, and 21 people were injured.
Hakkari
Hakkari bus bombing (September 16, 2010): 9 civilians were killed and 4 were injured after a bomb planted by PKK terrorists on the road between Durankaya town and Geçitli village was detonated while a bus carrying civilians was passing. 2-year-old Nurullah Umut Çiftçi and 11-months-old Zeynep Kurt were among those killed.
Çukurca Attack (July 10, 2016): 5-year-old Viyan Kanat lost her life in a PKK attack in Çukurca district of southeastern Hakkari province.
Others
Kahramanmaraş - Pazarcık Massacre (July 14, 1991): PKK terrorists killed 9 people, including women and children in Çağlayancerit and Pazarcık districts.
Erzincan - Başbağlar Massacre (June 5, 1993): PKK terrorists set fire to the village of Başbağlar after killing 33 people.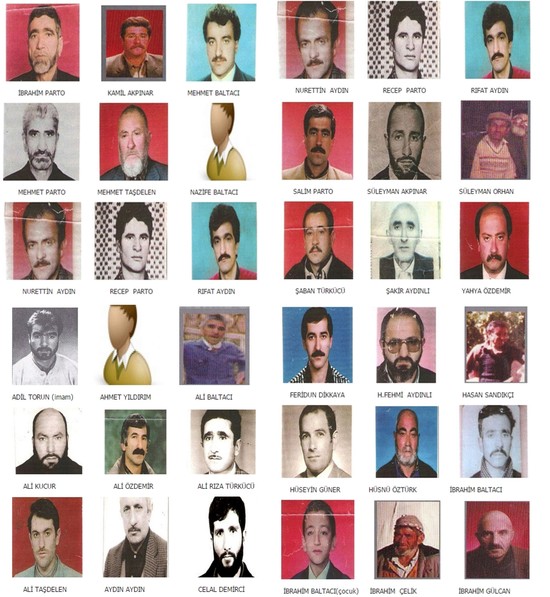 Van - Sündüz Massacre (June 18, 1993): 24 people were killed, including 14 children.
Kobani Riots: The Kobani riots across Turkey, which were provoked by the pro-PKK Peoples' Democratic Party (HDP) leaders' call for protests during the siege on the Syrian city of Kobani by Daesh, caused the deaths of 2 police officers and 44 others, mostly sympathizers of the PKK and the Free Cause Party, the PKK's arch rival in the region. Hundreds of civilians and police officers were also injured during clashes marked by widespread vandalism.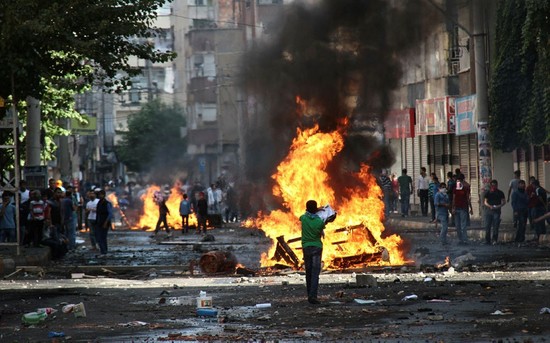 The riots were also marked by brutal murders of four young men, Yasin Börü, Hasan Gökgöz, Ahmet Hüseyin Dakak and Riyat Güneş, who were killed by PKK sympathizers while working for a charity in Diyarbakır.
Bursa - Ulu Mosque Attack (April 27, 2016): 13 were injured in a suicide bomb attack.
July 10, 2005: Five people were killed - two of them tourists- and 20 people were injured when a bomb planted by TAK exploded in Kuşadası, a coastal resort town in western Turkey's Aydın province.
April 28, 2006: Two people were killed in a hotel attack by TAK in the Aegean resort town of Marmaris in Turkey's southwestern Muğla province.
August 28, 2006: Four people were killed and many others were injured in a TAK attack in Antalya.