Turkish customs officials have confiscated four Syria-bound drones found hidden in a truck heading from southern Hatay province, reports said Saturday, as Turkey announced boosting restrictions on the Cilvegözü border gate with Syria after a terrorist group gained control of the region across the border.
According to reports, customs enforcement officers at Cilvegözü border found the drones after stopping the suspected truck and searching the vehicle's trailer.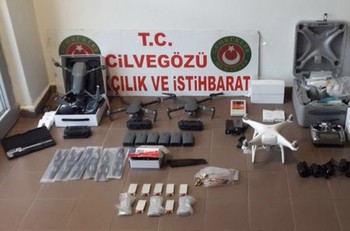 The drones were hidden in special boxes, reports said, adding that they were allegedly being sent for the use of terrorist organizations in Syria.
The truck driver has been detained, reports said.
Turkey imposed restrictions at the Cilvegözü border crossing with Syria after Hayat Tahrir al-Sham militants took control of the area.
Officials said restrictions will continue until the terrorist group's control over the area ends and will be imposed on all exports of all goods with the exception of humanitarian aid and food products.
The Cilvegözü border crossing in Turkey's Hatay province is a main crossing into Syria, which shares a lengthy border with Turkey.