U.S. Special Presidential Envoy for the Global Coalition to Counter Daesh Brett McGurk held a meeting with local tribe leaders in Raqqa last week where he appeared with prominent figures that had pledged their allegiance to the Daesh terror group, an independent Syrian Qasioun News Agency reported.Social media outlets and activists exposed that five individuals in the meeting were tribe leaders who had previously announced their loyalty to Daesh's leader, Abu Bakr al-Baghdadi.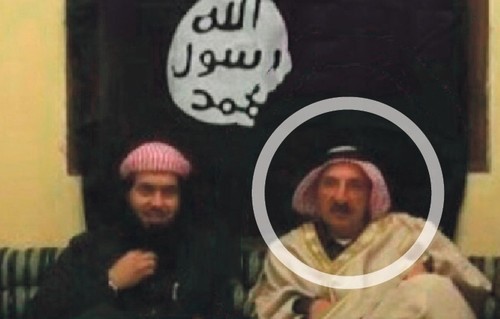 Qasioun's article published several of the tribal leaders' names:
Sheikh Hashim Al-Deif, (Al-Bu Jabir tribe), Sheikh Abdul-Karim Al-Rakan (Sheikh Al-Sabkha), Sheikh Mustafa Al-Khalaf Al-Issa (Al-Bous Assaf tribe), Sheikh Khalil al-Hindawi (Hanada), Sheikh Huwaidi Shalash Al-Mugham and Sheikh Bashir Al-Faisal (Al-Afdalah tribe), Sheikh Khamri Shwaq al-Bursan (tribe of al-waldeh, promise of pledging after consultation), Sheikh Saadoun Fahd Al-Karah (tribe of Russians from Anza), Sheikh Thamer Al Melhem Al Darwish (al-Shebl tribe), Sheikh Ahmed Al-Kano (Al-Borjub tribe), Sheikh Abdullah Al-Sattar (tribe of Zour Shamr), Sheikh Faisal Al-Mattar and Sheikh Yahya Al-Khatib (Sakhani al-Raqqa tribe), Sheikh Hassan Al-Bureij and Sheikh Ali Al-Khabour (Al-Breij tribe), Sheikh Mohammed al-Khalaf Abu Yasser (tribe Hawiwat) and Ibrahim Isma'il and Hassan al-Shuraideh (representatives of the Bous tribe).
The international coalition led by the U.S. supports the Civil Council of Raqqa's take over of civilian affairs in the case that the Syrian Democratic Forces (SDF) take control of Raqqa city.
Turkish officials have a tense relationship with McGurk due to his field trips to Syria in which he met senior commanders of the People's Protection Units (YPG).
Turkey, the U.S. and the EU have long designated the YPG's parent organization, the PKK, a terror group. Many officials believe McGurk was influential in the American decision to partner with the YPG against Daesh and emboldening the group.