The Interior Ministry yesterday denounced the opposition Peoples' Democratic Party (HDP) lawmakers for attending the funeral of a high-ranking PKK terrorist in southeastern Diyarbakır province. Prosecutors, meanwhile, launched an investigation on the matter.
In a statement on Twitter, the ministry said Hülya Eroğlu, also known by her code name Delal Amed, was among the 31 terrorists killed during a counter-terrorism operation in the Bestler-Dereler region of southeastern Şırnak province Tuesday.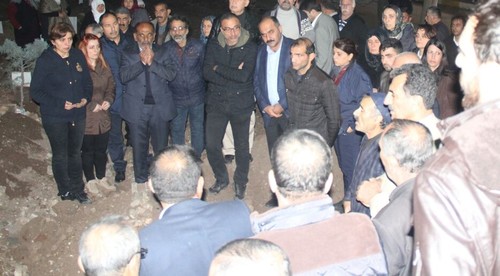 Eroğlu was in the red category on the Interior Ministry's list of most wanted persons.
The list is divided into five color-coded categories with red designated as the most wanted, followed by blue, green, orange and grey.
The PKK is listed as a terrorist organization in Turkey, the U.S., and EU. In its over three-decade terror campaign against Turkey, more than 40,000 people have been killed.
Since the group resumed its armed campaign in July 2015, more than 1,200 people, including security force personnel and civilians, have lost their lives.
The Chief Prosecutor's Office in Diyarbakır announced that they launched a probe into Feleknaz Uca, Sibel Yiğitalp, Berdan Öztürk, Nadir Yıldırım, Ahmet Yıldırım and Leyla Birlik for attending the funeral and paying tributes to Eroğlu in separate events.