Twelve people were injured Friday in People's Protection Units (YPG) attacks that hit at two hospitals in a district of Syria on the Turkish border. The YPG terrorist organization opened artillery fire from the Afrin region on two hospitals – a psychiatric hospital and maternity hospital – in Azez in Aleppo province.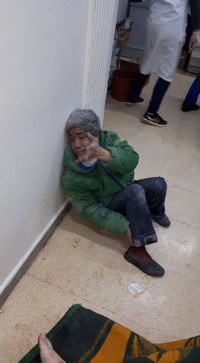 According to initial reports, 12 psychiatric patients were injured, including four seriously, hospital staff at told Anadolu Agency.
The injured patients were sent to nearby hospitals from the building which was heavily damaged. The second attack hit near the maternity hospital and did not cause any loss or injury.
Meanwhile, residents in Azaz urged Turkey and the Free Syrian Army (FSA) to take action in the nearby city of Afrin to clearing the region of YPG terrorist elements.
Roughly 1,000 district residents demonstrated against the YPG presence in Afrin, which is located roughly 20 kilometers southwest of Azaz. "The Turkish army and the FSA [Free Syrian Army] must act immediately," read a petition endorsed by the demonstrators. "As long as this gang remains in Afrin, none of us will be safe," it added, in reference to the YPG
Demonstrators also accused the YPG of committing rights abuses in Raqqah and Manbij.