With the beginning of Turkey's Operation Olive Branch to root out terror groups in Syria's northwestern town of Afrin and its surrounding area, social media accounts affiliated with the PKK terror group and its offshoots PYD, YPG and KCK have ramped up efforts to spread black propaganda regarding civilian death toll and Turkish casualties.
The Turkish Armed Forces (TSK) said Saturday that an image circulated on social media claiming to show an injured child from Afrin was dating back to a 2016 bombing in Syria.
The image was widely shared by PKK-affiliated People's Protection Units (YPG) supporters on Twitter, as they claimed the child was injured in Turkish strikes. However, it was soon revealed that the photo was actually from a shelling in Aleppo.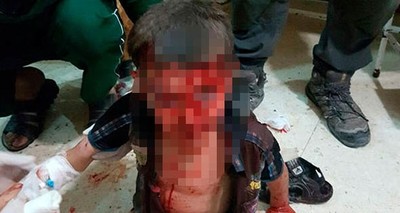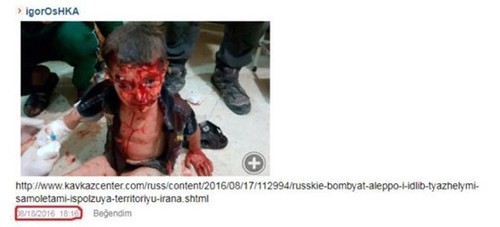 Another example of spreading false information was tweeted by an account affiliated with the YPG's so-called political wing Democratic Union Party (PYD). A photo showing a residential building engulfed in flames was tweeted by "PYD_Rojava" with the caption: "Turkish terrorist army targets civilian homes in Afrin."
Shorty after it was posted, other social media users discovered that the image was from a fire incident that took place in Kuwait in 2016.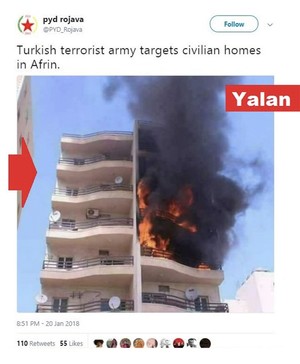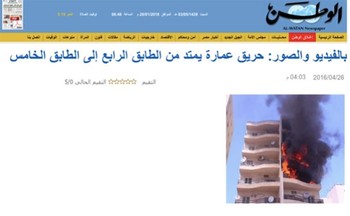 On Friday, YPG terrorists claimed that they seized a tank from the Turkish military, but the Turkish military launched the ground operation on Sunday, two days after the claim.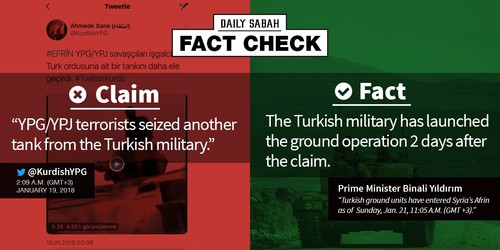 Another YPG supporter shared a picture with slanders against Turkish army, attached with a picture of a burning tank.




His claim that the tank belonged to the Turkish army and that YPG terrorists have burnt it was quick to be debunked on social media. It turned out the picture is from a Yemen battle, as seen in a news piece dated December 2016.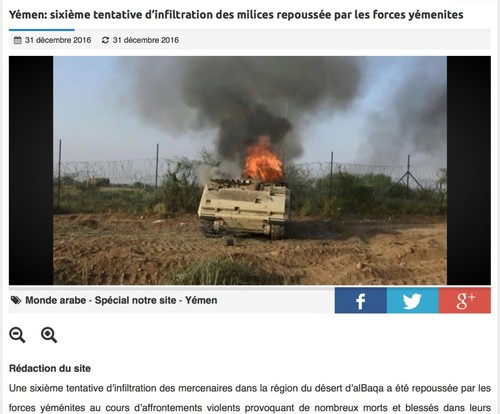 In another example, pictures shared by an account which claims to be the official Twitter account of a PYD-linked group claimed to show civilians injured in Turkish military attacks in Afrin. On the contrary, the photos from a YPG attack on a mental hospital in Syria's Azaz on January 19.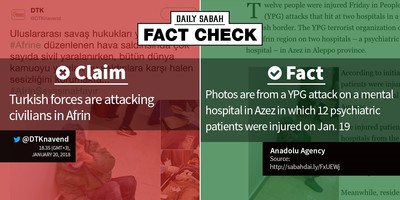 Turkish Chief of General Staff Gen. Hulusi Akar said late Saturday that only terrorists, their shelters, buildings, weapons, and vehicles would be targeted in Syria's Afrin region as part of "Operation Olive Branch."
"Utmost attention and sensitivity will be shown so that civilians and innocent people will not be harmed, "Akar said in a video footage released by the Turkish General Staff.
Another PYD supporter account named "Evin u Efrin" shared an image on Facebook, claiming that it was a photo of a Turkish soldier injured by the YPG fighters, The photo, however, was from a poisoning incident in the western Turkish province of Manisa in June 2017.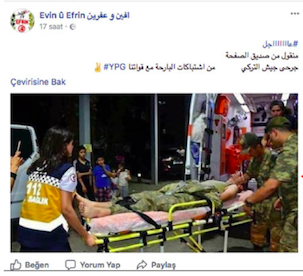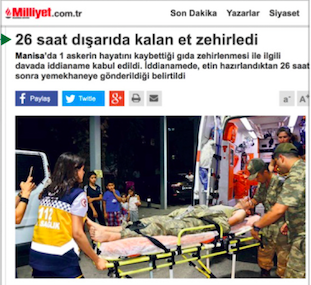 A YPG supporter, who uses Twitter handle @Racon_Efrin, shared a photo of burning Turkish police stations in southern Mardin province, claiming they were attacked in response to Operation Olive Branch.
The photo was indeed from a PKK attack, but it took place July 9, 2016 — long before the operation in Afrin started.




Another pro-PKK user shared a picture on Twitter, showing a terrorist holding a mortar.
"This is the guy who destroyed 5 Turkish tanks," he wrote. But the picture was actually from a 2014 news piece, published on Nerina Azad.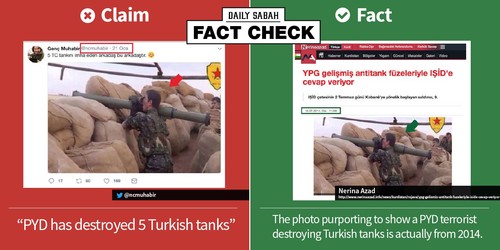 In another effort to delegitimize the operation, a PYD supporter shared pictures depicting injured people, including children. According to his tweet, a Turkish army attack against civilians in Afrin has left eight people wounded. Ironically, it was an attack by PYD terrorists in Aleppo, and the photos were first shared in August 2017.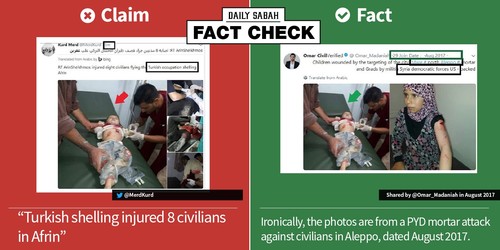 Turkey started the operation on Saturday at 5 p.m. [1400GMT] in Afrin.
The operation aims to establish security and stability along Turkish borders and the region as well as to eliminate terrorists and to protect Syrian people from the terrorists' oppression and cruelty.
The operation is carried out under the framework of Turkey's rights based on international law, U.N. Security Council's decisions and self-defense right under the U.N. Charter, said the military.
The PYD/YPG is the Syrian offshoot of the PKK terrorist group, which has been designated a terrorist organization by Turkey, the U.S. and the EU.
Since the mid-1980s, the PKK has waged a wide-ranging terror campaign against the Turkish state in which an estimated 40,000 people have been killed.
More than 1,200 security personnel have been martyred since July 2015 when the group resumed its armed campaign against the Turkish state following a fragile cease-fire.