Salih Muslum, a senior leader of PKK terror group's Syrian affiliate the Democratic Union Party (PYD), on Thursday shared a fake photograph to defame Turkey's ongoing anti-terror operation in northwestern Syria.
On his Twitter account, Muslum retweeted a photograph showing injured children with a message: "Turkey massacres in Afrin," referring to Turkey's Operation Olive Branch which targets the PYD and its armed wing the People's Protection Units (YPG) and Daesh terrorists in northern Syria's Afrin region.
However, it was later revealed that the photograph was a Sept. 14, 2014 picture from Eastern Ghouta, then under a crippling siege by the Assad regime.
The photograph showed three children and a baby, who were injured after an air attack by the regime forces in Douma district of Eastern Ghouta.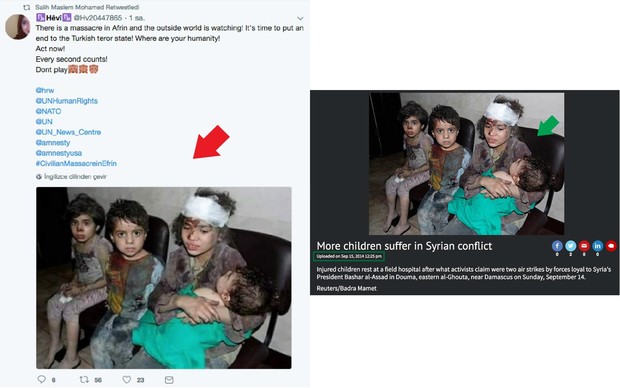 The photo falsely claimed to be from Afrin, Muslum retweeted (L) vs. original photo from 2014.
After Anadolu Agency (AA) took a screenshot of the photograph, in order to reveal its falsehood, Muslum deleted the post from his feed.
Black propaganda against the Turkish military began soon after Turkey launched the operation, with supporters of the PYD/PKK terrorist organization posting fake and distorted photographs on social media, falsely claiming they were from Afrin.
With the beginning of Turkey's Operation Olive Branch to root out YPG and Daesh terror groups in Syria's northwestern town of Afrin and its surrounding area, social media accounts affiliated with the PKK have ramped up efforts to spread black propaganda regarding civilian death toll and Turkish casualties.