Turkish and Free Syrian Army (FSA) forces have uncovered a terrorist PKK-backed People's Protection Units (YPG) tunnel six meters (19.6 feet) below a building in a liberated village in Afrin, northwestern Syria.
On Sunday, day nine of the operation, Turkish and FSA forces liberated the village of Qestel Cindo, located south of Mt. Barsaya, according to the FSA sources.
The tunnel was reportedly 50 m long (164 ft.) under a two-story-building, dug toward Aleppo's district of Azaz, according to military sources who asked not to be named due to restrictions on speaking to the media.
A FSA commander told Anadolu Agency that clashes broke out with four terrorists a short while after forces entered the tunnel, and that two of the terrorists were killed.
Four meters (13 ft.) below the same village the forces earlier found a tunnel network reportedly used by terrorists as shelter against counter-terrorist fire.
On Jan. 20, Turkey launched Operation Olive Branch along with the FSA to clear PKK/YPG and Daesh terrorists from Afrin, northwestern Syria.
According to the Turkish General Staff, the operation aims to establish security and stability along Turkey's borders and the region as well as to protect Syrians from terrorist oppression and cruelty.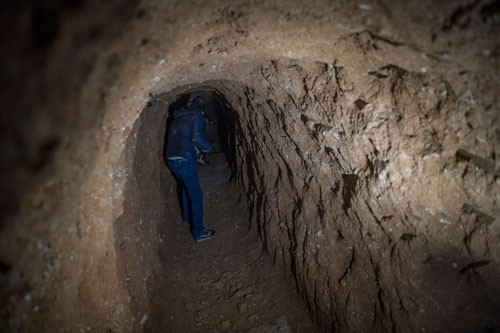 The operation is being carried out under the framework of Turkey's rights based on international law, U.N. Security Council resolutions, its self-defense rights under the U.N. charter, and respect for Syria's territorial integrity, it said.
The military also said only terror targets are being destroyed and that "utmost importance and sensitivity" is being put on avoiding harming civilians.
Afrin has been a major hideout for the PKK/YPG since July 2012, when the Bashar al-Assad regime in Syria left the city to the terror group without a fight.