Turkish troops are getting closer to Afrin town center in northwestern Syria, President Recep Tayyip Erdoğan said Saturday.
Turkey's ongoing Operation Olive Branch in Afrin is now in its third week.
Speaking at an ordinary congress of the ruling Justice and Development Party (AK Party) in the eastern province of Bitlis, Erdoğan said "We are advancing into Afrin [town center]. We are close."
The president then went on to visit the 14th Unmanned Aircraft System (UAS) Base in eastern Batman province, where he signed one of the vehicles after getting a briefing by authorities.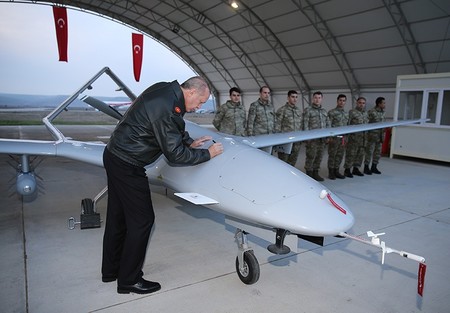 Turkey launched Operation Olive Branch on Jan. 20 along with Free Syrian Army (FSA) to clear PYD/PKK and Daesh terrorists from Afrin, northwestern Syria.
A total of 897 PYD/PKK and Daesh terrorists have been killed so far since the operation has launched.
According to the Turkish General Staff, Operation Olive Branch aims to establish security and stability along Turkish borders and the region as well as to protect Syrians from terrorist oppression and cruelty.
The operation is being carried out under the framework of Turkey's rights based on international law, UN Security Council resolutions, its self-defense rights under the UN Charter, and respect for Syria's territorial integrity.
Since the start of the operation, the PYD/PKK has carried out cross-border attacks on Turkey by firing rockets on civilian neighborhoods, killing at least seven civilians and injuring 107 others including children.