Supporters of the PKK-linked Democratic Union Party (PYD) and its armed wing People's Protection Units (YPG) continue to spread false propaganda on social media regarding Turkey's anti-terror operation in Syria's Afrin. Their latest attempt involved a photograph showing Turkish soldiers carrying an ancient jar, which YPG supporters claimed was a historical Kurdish artifact in Afrin, when in reality it was discovered by soldiers carrying out anti-terror operations targeting the house of PKK terrorists.
In their tweets, YPG supporters wrongfully claimed that the Turkish soldiers were "looting" historical Kurdish heritage. These tweets had a number of fatal mistakes, as the soldiers on the photo were in eastern Turkey rather than Syria, and the artifact they were carrying was a 1,500-year-old pithos discovered inside a house during anti-terror raids against the PKK in Kolonkoya village.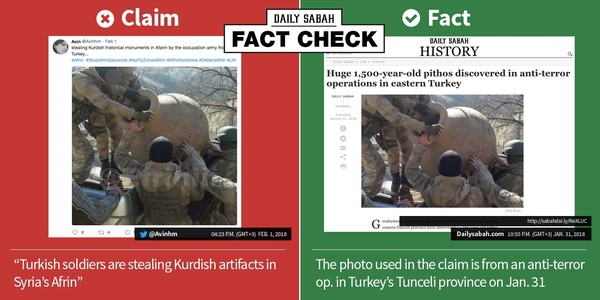 The Daily Sabah had reported the discovery of the ancient jar in an article on the day the discovery was made on Jan. 31, 2018.
Turkey started Operation Olive Branch on Jan. 30 in Afrin.
The operation aims to establish security and stability along Turkish borders and the region as well as to eliminate terrorists and to protect Syrian people from the terrorists' oppression and cruelty.
The operation is carried out under the framework of Turkey's rights based on international law, U.N. Security Council's decisions and self-defense right under the U.N. Charter, said the military.
The PYD/YPG is the Syrian offshoot of the PKK terrorist group, which has been designated a terrorist organization by Turkey, the U.S. and the EU.
Since the mid-1980s, the PKK has waged a wide-ranging terror campaign against the Turkish state in which an estimated 40,000 people have been killed.
More than 1,200 security personnel have been martyred since July 2015 when the group resumed its armed campaign against the Turkish state following a fragile cease-fire.