The PKK terrorist organization's Syrian branch the People's Protection Units (YPG) has killed a total of seven civilians and injured 113 in Turkey's border provinces of Hatay and Kilis since Jan. 21, the day after Turkey launched a counter-terrorist operation across the border in Syria.
To date the YPG/PYD/PKK has fired 60 rockets or mortars from Afrin on civilian areas in Hatay and 34 rockets or mortars on residential areas in Kilis. The Democratic Union Party's (PYD) is the political authority of the YPG.
On day two of Operation Olive Branch, Syrian refugee Nadir al-Fares, 51, was injured in a YPG rocket attack on the Reyhanlı district of Hatay and later succumbed to his injuries at the hospital.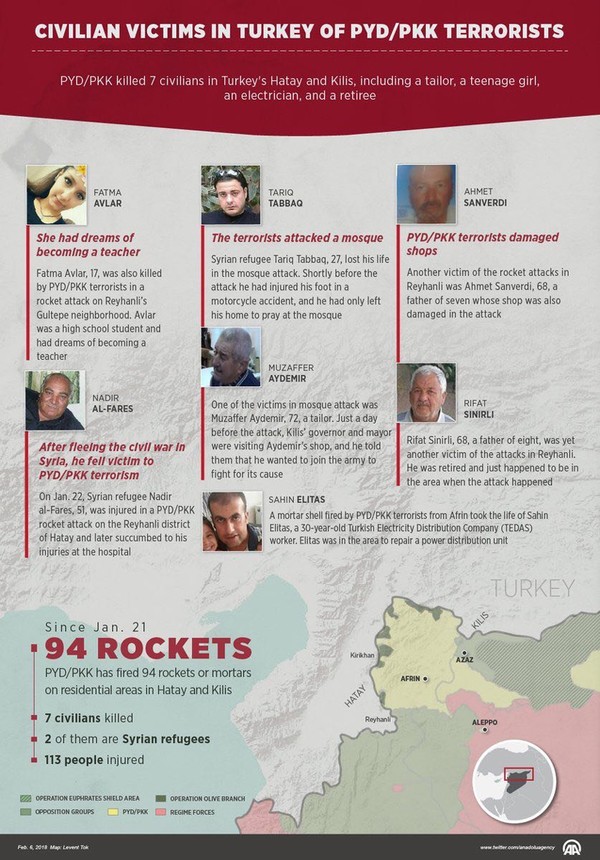 After fleeing the civil war in Syria and seeking refuge in Turkey, in Reyhanlı he fell victim to YPG terrorism.
The next day, a mortar shell fired by YPG terrorists from Afrin took the life of Şahin Elitaş, a 30-year-old Turkish Electricity Distribution Company (TEDAS) worker. Elitaş was in the area to repair a power distribution unit.
He was married with two children, but the attack orphaned his children and made his wife a widow.
Fatma Avlar, 17, was also killed by YPG/PYD terrorists in a rocket attack on Reyhanlı's Gültepe neighborhood. Avlar was a high school student and had dreams of becoming a teacher.
Another victim of the rocket attacks in Reyhanlı was Ahmet Sanverdi, 68, a father of seven whose shop was also damaged in the attack.
Rıfat Sinirli, 68, a father of eight, was yet another victim of the attacks in Reyhanlı. He was retired and just happened to be in the area when the attack happened.
The terrorists also attacked a mosque in Kilis, taking the lives of two people.
One of the victims was Muzaffer Aydemir, 72, a tailor. Just a day before the attack, Kilis' governor and mayor were visiting Aydemir's shop, and he told them that he wanted to join the army to fight for its cause.
Syrian refugee Tariq Tabbaq, 27, also lost his life in the mosque attack. Shortly before the attack he had injured his foot in a motorcycle accident, and he had only left his home to pray at the mosque.
He was married with two children, and his wife is expecting.
Turkey launched Operation Olive Branch on Jan. 20 along with the Free Syrian Army (FSA) to clear YPG/PYD/PKK and Daesh terrorists from Afrin, northwestern Syria.
Since the start of the operation, the YPG has carried out cross-border attacks on Turkey by firing rockets targeting civilian neighborhoods.
According to the Turkish General Staff, Operation Olive Branch aims to establish security and stability along Turkey's borders and the region as well as protect Syrians from terrorist oppression and cruelty.
The operation is being carried out under the framework of Turkey's rights based on international law, U.N. Security Council resolutions, its self-defense rights under the U.N. Charter, and respect for Syria's territorial integrity.