Blue flags belonging to the so-called Raqqa Internal Security Force (RIFS) were spotted in a convoy of vehicles that traveled to Afrin from northeastern Syria on Monday night, according to pictures and videos provided by local media.
The U.S.-led coalition has been training a Raqqa security force to police the so-called capital of Daesh since its liberation last year. Canadian Armed Forces Brigadier General D.J. Anderson, Director of Partner Force Development and Ministerial Liaison Team, told journalists last July that approximately 8,000 people were to be trained to provide security in the city.
A convoy of hunreds of vehicles carrying people from different cities on the way towards #Afrin pic.twitter.com/oDHu8X5HgI

— Mutlu Civiroglu (@mutludc) February 5, 2018
The RIFS has been presented by the coalition as local volunteers who are not tied to the Kurdish militant group People's Protection Units (YPG), which is an extension of U.S.-designated terror group PKK.
Last November the Coalition announced that the RIFS had assumed security responsibility of the city under the leadership of the Raqqa Civil Council. The council itself has YPG-affiliated individuals on its board.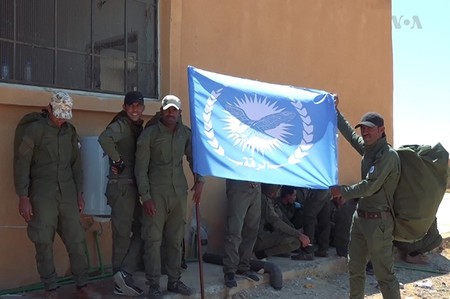 Turkish news wire Anadolu Agency reported Tuesday that up to 500 YPG-aligned militants were transported to Afrin from northeastern Syria in a convoy of vehicles, in which the RISF flags were spotted.
U.S. military officials told the Wall Street Journal on Tuesday that hundreds of militants from YPG and the Assyrian group Syriac Military Council from across eastern Syria have left to oppose Turkey's operation in Afrin to clean the area of YPG and other terrorist groups.
Both YPG and the Syriac Military Council are affiliated with the militia alliance the Syrian Democratic Forces, (SDF), which was essentially established by the U.S. to calm Turkish concerns on YPG and PKK. The U.S.-led coalition has provided both training and equipment to the SDF to counter Daesh in Syria.
Speaking to Daily Sabah, Pentagon Spokesman Eric Pahon said that they were aware that the SDF had repositioned some forces in response to recent tensions, "however this was not under coalition direction."
Pahon reiterated the U.S. warning that any alleged misuse or diversion of U.S. support would be taken seriously and, if verified, would result in the end of support.
When Coalition leadership was asked Wednesday if they were aware of reports that RIFS, trained and equipped by the Coalition, traveled to Afrin, one representative responded:
"We cannot confirm these reports, nor can we attest to the authenticity of these photos. The Coalition does not operate in or around Afrin."