Operation Olive Branch in Afrin and Turkish military efforts in Idlib will pave the way for the 3.5 million refugees currently taking shelter in Turkey to return home safe and sound, President Recep Tayyip Erdoğan said Thursday in Ankara. Addressing village headmen at the Presidential Complex, President Erdoğan said that Turkey will sort out issues in Afrin and Idlib, which will allow Syrian refugees to return to these peaceful areas. "What is behind the Afrin operation? We will solve the Afrin issue, the Idlib issue and we want that our refugee brothers and sisters return to their country," the president said, adding that Turkey would not shelter 3.5 million Syrian refugees forever.
"They [Syrian refugees in Turkey] also want this." Vowing to finish Operation Olive Branch successfully, Erdoğan said the Turkish military is cracking down on the People's Protection Units (YPG) in rural Afrin. Stressing that parents of killed Turkish soldiers always ask him on the phone to eradicate the terrorists, he said, "We made a promise to them. We will do it, we will clear out the terrorists [from Afrin]." The president also remarked on the Republican People's Party (CHP) Chairman Kemal Kılıçdaroğlu's statement, calling on the Turkish military to not enter Afrin. Erdoğan said that Turkey is not going to ask for his permission.
"We need to get permission from you? We have the permission of our nation. We will fulfill the instructions of our people," President Erdoğan said.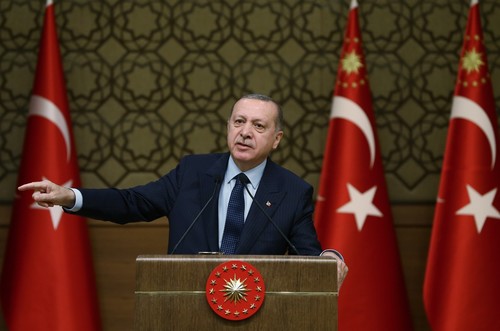 President Erdoğan delivers a speech at the Presidential Complex in Ankara, on Feb. 8.
On Jan. 20, Turkey launched Operation Olive Branch to eliminate YPG presence in Afrin, northwestern Syria. Since the beginning of the operation 1,028 PYD/PKK and Daesh terrorists have been killed, as Erdoğan informed in his speech.
According to the Turkish General Staff, the operation aims to establish security and stability along Turkish borders and the region as well as to protect the Syrian people from the oppression and cruelty of terrorists. The operation is being carried out under the framework of Turkey's rights based on international law, the U.N. Security Council's decisions, self-defense rights under the U.N. charter and respect for Syria's territorial integrity, it said.
The Turkish government has previously said the operation is aimed at cleansing the area and giving it back to its real owners, namely the Syrians.
"We do not have any interest in the soil of Syria or Iraq. We launched the operation because of the increased number of terrorist attacks," Foreign Minister Mevlüt Çavuşoğlu said late January.
Since the start of the Syrian crisis in 2011, Turkey has been hosting some 3.5 million refugees, the most generous country in this respect in the whole world. Foreign Minister Çavuşoğlu recently said in an op-ed in Newsweek magazine that Turkey spent $30 billion to meet the needs of 3.5 million Syrians.
However, Turkey first launched Operation Euphrates Shield in August 2016 against Daesh and then Operation Olive Branch last month to wipe out Daesh and PKK terrorism on Syrian soil, and ultimately, make northern Syria safe for locals to return to their homes.
YPG, the armed wing of PKK's Syrian affiliate, Democratic Union Party (PYD), functions in Syria under the umbrella group, Syrian Democratic Forces (SDF), which is supported by the United States militarily and logistically. The terrorist group's ultimate aim is to establish an autonomous region in northern Syria by connecting the northwestern Afrin canton to the Kobani and Jazeera cantons in the northeast. As such, Turkey's operation will put a stop to establishing the autonomous region, which Ankara terms a "terror corridor.".
The operation in Afrin is also carried out in cooperation between the Turkish military and the Free Syrian Army (FSA). The FSA includes Syrian Arabs, Kurds and Turkmens as well as others. President Erdoğan recently called the army "an organization that defends their own land."
Following the Turkish military and the FSA's successful completion of Operation Euphrates Shield, tens of thousands of Syrians returned to areas liberated from Daesh terrorists.
National Defense Minister Nurettin Canikli briefed Parliament recently on Operation Olive Branch, saying it has been carried out meticulously so far, and civilians are expected to return once the area is completely cleared of terrorists, just as "100,000 Syrians returned following Operation Euphrates Shield."
Turkey has also been in efforts to establish security posts in Idlib. On Oct. 12, 2017, the Turkish military started to cross into the region to establish observation points to monitor the cease-fire regime in the Idlib de-escalation zone.
"We took steps for the de-escalation zone in Idlib with Russia and Iran," Erdoğan said. The of de-escalation zones, established as part of Syria peace talks in Astana, Kazakhstan, aim to increase the effectiveness of the cease-fire agreement, end armed clashes, provide humanitarian aid to those in need, establish proper conditions for displaced people to return and establish conditions for a peaceful resolution of the conflict.
Drawing attention to Çavuşoğlu's visit to Tehran on Wednesday, Erdoğan said he spoke with Russian President Vladimir Putin yesterday.
"Next week the U.S. secretary of state will come accompanied by the national security adviser. Meetings will be held here with them. We continue this process intensively because as Turkey, we have to decide our own fate here. There is no other way," he added.