The number of terrorists "neutralized" in Operation Olive Branch in Syria's Afrin has reached 1,715, the Turkish military said Tuesday.
The Turkish Armed Forces (TSK) uses the term "neutralized" in reference to terrorists captured dead or alive, or those who surrendered during the operations. However, the term is usually used for the terrorists who were killed in the operations.
In a statement, the military said that terrorist targets, including shelters and hideouts, have been shelled from the border province of Kilis.
Turkish military and Free Syrian Army (FSA) fighters cleared Zaytunak, Sorani, Heyyani, Sharqanli and Arab Wiran villages from PKK-affiliated People's Protection Forces (YPG) terrorists in northern parts of Syria's Afrin region, Anadolu Agency said Tuesday.
The TSK said later Tuesday that the YPG terrorists had been cut off from direct contact with the Turkish border in Kilis province following the capture of the Deir Sawwan village.
The YPG terrorists have fired nearly 100 rockets targeting civilian areas in the border provinces of Kilis and Hatay, killing seven people since the beginning of the Operation Olive Branch.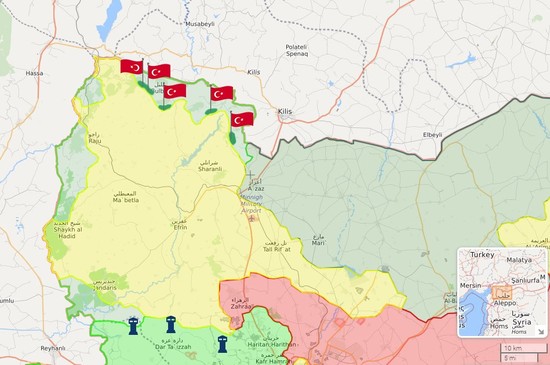 Image: syria.liveuamap.com

The southwestern parts of the district, Marwanah and Haykajah villages were liberated from YPG/PKK terrorists later in the day.

Since the beginning of the of the operation on Jan. 20 to remove the PKK/PYD/YPG/KCK and Daesh terrorists from Afrin district in northwestern Syria, one of Afrin's five towns, 59 villages, five smaller settlements, 20 strategic mountains and hills and one YPG/PKK training base have been cleared of the terrorist group.
According to the Turkish General Staff, the operation aims to establish security and stability along Turkish borders and in the region as well as to protect Syrian people from the oppression and cruelty of terrorists.
The operation is being carried out under the framework of Turkey's rights within international law, U.N. Security Council resolutions, its right to self-defense under the U.N. charter and respect for Syria's territorial integrity, it said.