President Recep Tayyip Erdoğan said the Afrin operation against the PKK terror organization's Syrian affiliate will continue until the mission is fully completed, and that no factor can deter Turkey from its duty to eliminate threats posed to its national security. "[On the battle field] you don't leave a dragon half slain. One way or another, the mission will be completed," Erdoğan told journalists accompanying him during his official visit to Algeria yesterday. On Jan. 20, Turkey launched Operation Olive Branch to clear out the PKK's Syrian affiliate group, the Democratic Union Party (PYD) and its armed People's Protection Units (YPG), from Syria's northwestern Afrin province.
"We stand against whoever is and would stand against us there [in Afrin]. We do not have to investigate and research who is there against us. It's not like we are going to look into the 'who is who' encyclopedia regarding this," Erdoğan said, responding to a question on recent reports that claimed there are Iran-backed, pro-Assad militia deployed to support the YPG in Afrin. "We are not in a position to get anyone's permission," the president underlined. Erdoğan also criticized the support given to the YPG by Turkey's Western allies.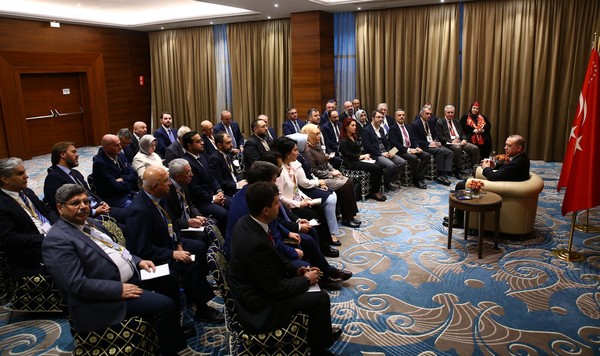 "Right now, all the tunnels [in Afrin built by terrorists] are taken care of. The construction mixers there are of interest. Whose are they? Lafarge's. Who owns Lafarge? They [Lafarge] have factories there. We saw the condition of those tunnels. There are living spaces in various places that these tunnels lead to. When these are all out there, what it is that the West is asking us? Turkey is not the old Turkey," President Erdoğan said, referring to large tunnels discovered by the Turkish Armed Forces (TSK) and the Free Syrian Army (FSA) during the operations.
In an attack on Turkish forces during Operation Olive Branch, one of the tunnels was used to carry out the attack, where five soldiers were killed.
The president said communication channels are kept active with Russia and Iran on regional issues, and that earlier in the week he held a phone conversation with French President Emmanuel Macron on developments in Syria. Erdoğan rejected, however, the remarks made by French presidential sources, claiming Macron suggested Afrin to be included in the U.N. Security Council truce decision for Eastern Ghouta. French presidential sources said Macron had called for the Afrin operation to be halted.
"Those reports are not correct. Macron did not mention such a thing. We fight against terror elements in Afrin. We have no interest in anyone's territory. We are fighting against terror elements that pose a threat to our national security," Erdoğan said. The operation in Afrin is being carried out in accordance with Turkey's rights based on international law and U.N. Security Council resolutions, especially No. 1624 (2005), 2170 (2014) and 2178 (2014); and Article 51 of the U.N. Charter on the Right to Self-Defense, Ankara says.
US's words must match their actions on the ground
President Erdoğan said Ankara demands that Washington keep its promises made to Turkey on Syria for relations to normalize.
"We want what the U.S. tells us to match what they actually do on the ground. The discrepancy between what is discussed and what actually happens is of course not acceptable," he said.
Erdoğan added that the communication channels, which were recently enhanced during the visit by U.S. Secretary of State Rex Tillerson and U.S. National Security Adviser H.R. McMaster, are kept open and that technical committees will be meeting on March 8 in the U.S. Another meeting at the foreign ministerial level will also be held on March 18, Erdoğan said. Earlier in February, Tillerson and McMaster had visited Ankara, where they held high-level meetings with the Turkish leadership. After the meetings, it was announced that a joint mechanism will be established to normalize the severed ties between Turkey and the U.S. over several areas of disagreement.
Turkey has argued that the U.S. support for the YPG in Syria, under the guise of the fight against Daesh, is not acceptable, arguing that the group has clear links with the PKK, a group listed as a terror organization terror by the U.S., Turkey and the EU.
"In the meantime, the operation to clear Afrin from terror continues. As of now a 540-kilometer square area has been taken under control," the president said.
Manbij should be controlled by actual owners
After the operation is completed in Afrin, Ankara has vowed to clear the eastern parts of the Euphrates River and Manbij from YPG terror elements as well.
"Who are the actual owners of Manbij? Arabs, who are about 90-95 percent of the locals there. However, they were forcefully relocated from there. Now the actual owners of Manbij say that they are determined to defend their towns. We believe that Manbij should be returned back to the actual owners," the president said, reiterating Turkey's position on Manbij, which has also been a matter of dispute with the U.S. administration. "We have told that to Rex Tillerson as well," Erdoğan continued. Since the ousting of Daesh from Manbij, the U.S. has maintained a military presence in the town and regularly conducts patrols in the area, reflecting the deepening American involvement in Syria.
Releasing former PYD co-chair means aiding terror
The release of former PYD Co-Chair Saleh Muslum on Tuesday by a Czech court is a reflection of Western hypocrisy and ambivalent attitudes in the fight against terror Erdoğan said, and added that the move has supported terrorism.
"Unfortunately, they have not been just until this day. And now they have an ambivalent attitude. The Czech Republic is a country that is a member of the European Union. Well, does the EU consider the PKK a terrorist organization? It does. Did we document and prove that the PYD/YPG is affiliate with the terrorist group [PKK]? We did. Despite this, they have released the terrorist leader."
The Interpol unit in the Czech Republic notified the Turkish authorities that Muslum was detained in Prague on Feb. 24 upon Turkey's request and detention order. On Tuesday, however, Muslum was released by the Czech authorities, a decision which was not welcomed by Ankara.
"Well, why did you detain him and then release him? What changed in 24 hours? The decision to release him has put the Czech Republic in a position of a country that is supporting terrorism. There is no other explanation for this, they cannot explain this to us. Releasing a terror leader means supporting terror. There is no other explanation for this," the president said.

Improving ties helps Algeria's development

President Recep Tayyip Erdoğan said enhancing cooperation and relations between Turkey and Algeria will also help the development of the country, particularly in defense needs.
"In the defense industry, Algeria's needs are higher than estimated. It is a country that covers a large area. Its needs are nearly three times more than us [Turkey]. It needs to protect its borders," Erdoğan said, and continued by adding that Turkey can provide support to the country with domestically manufactured weaponry. The president highlighted Algeria's strategic location, and that Ankara aims to improve ties with Algiers.
Erdoğan arrived in Algeria Monday evening as part of his Africa tour between Feb. 26 and March 2. He is also expected to visit Mauritania, Senegal, and Mali. During the visit to Algeria several bilateral agreements were signed between delegations. The president is being accompanied by a large group of businesspeople in an effort to increase trade ties with the country.
"The trade volume is $3.5 billion. We have agreed to have a goal of bringing the trade volume to $5 billion in the first phase, and then to $10 billion after that. There is willingness on both sides, which is very encouraging," the president added.
Erdoğan's latest trip marks the president's fourth visit to the country, where nearly 1,000 Turkish businesses operate. Turkey has also established energy agreements, namely in natural gas and liquefied natural gas (LNG), with Algeria.