Turkish soldiers and Free Syrian Army (FSA) fighters backed by Special Forces teams of Turkish national police and gendarmerie launched the second phase of Operation Olive Branch in northwestern Syria's Afrin on Friday with heavy clashes taking place around and inside Raju's town center and liberating three villages.
On Feb. 28, Operation Olive Branch forces established a crescent-shape corridor stretching along northwestern Idlib province and Aleppo province's Azaz district, cutting the PKK affiliated People's Protection Forces (YPG) terrorists' connection to the Turkish border. Now, the forces are focusing on urban warfare in multiple fronts, town centers in the Raju and Jinderes districts and eventually Afrin's town center.
As a part of the second phase, Utmanli, Maskanli and Mamali villages in western Afrin were liberated on Friday, and the Turkish Armed Forces (TSK) along with FSA fighters reached Raju's town center.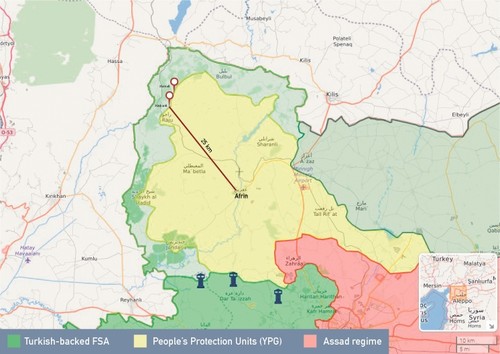 Special Forces, deployed this week in the villages to prevent terrorists from infiltrating rural areas of Afrin, have been conducting 24-hour surveillance with night-vision binoculars. These forces are also expected to bring significant advantages in liberating urban centers. Turkish Police Special Forces (PÖH) and Gendarmerie Special Forces (JÖH) have substantial experience in urban warfare after having played crucial roles in clearing PKK militants from Turkey's southeastern cities between 2015 and 2016.
Raju, located 25 kilometers northwest of Afrin town center, is one of the five towns located in Afrin district. The town of Bulbul, located in northern Afrin, was previously liberated on Feb. 3.
Villages to south and to west of the town of Jinderes, located 20 kilometers southwest of Afrin town center, have been cleared from YPG terrorists and an offensive to liberate the town is expected soon.
The Ministry of Defense said in a statement Friday that 41 Turkish soldiers and 116 Free Syrian Army fighters had been killed in action during the operation so far.
Meanwhile, the Turkish Armed Forces (TSK) announced that at least 2,295 terrorists had been "neutralized" in the operation since it was launched on Jan. 20.
The TSK uses the term "neutralized" in reference to terrorists captured dead or alive, or those who surrendered during the operations. However, the term is usually used for the terrorists who were killed in the operations.
The announcement came after military sources confirmed that nine YPG terrorists were killed in northern Afrin, after Turkish T129 Advanced Attack and Tactical Reconnaissance Helicopters (ATAK) targeted previously identified locations. The airstrikes were launched after eight Turkish soldiers were killed in action by the YPG and 13 others were injured during clashes with the terrorists on Thursday.
Operation Olive Branch was launched by Turkey on Jan. 20 to remove the PKK/PYD/YPG/KCK and Daesh terrorists from Afrin in northwestern Syria.
According to the Turkish General Staff, the operation aims to establish security and stability along Turkish borders and in the region as well as to protect Syrian people from the oppression and cruelty of terrorists.
The operation is being carried out under the framework of Turkey's rights within international law, U.N. Security Council resolutions, its right to self-defense under the U.N. charter and respect for Syria's territorial integrity, it said.
The military also said, "utmost importance" is being placed on not harming any civilians.
The operation in Afrin – bordering Turkey's Hatay and Kilis provinces – was widely expected in the wake of Turkey's Operation Euphrates Shield in northern Syria, which cleared Daesh terrorists from Turkey's border between Aug. 24, 2016, and March 2017.
Afrin has been a major hideout for the YPG/PKK since July 2012 when the Assad regime in Syria left the city to the terror group without putting up a fight.