Former co-chair of the PKK-linked Democratic Union Party (PYD) Salih Muslum appeared at a demonstration organized by the terror group's supporters in Berlin, shortly after being released by a Czech court despite Turkey's request for his arrest and extradition.
Muslum also addressed the crowd at the rally held near German capital's iconic Brandenburg Gate.
German police have reportedly failed to interfere when the demonstrators displayed posters of the PKK terrorist group's imprisoned leader Abdullah Öcalan.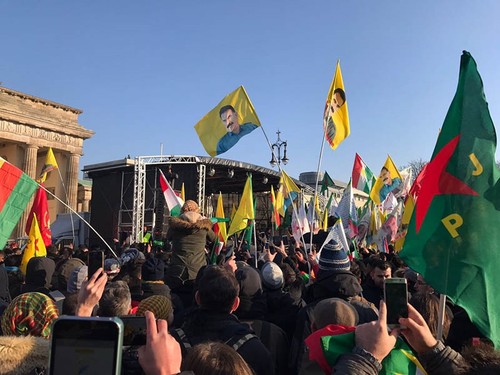 German leftist lawmaker Tobias Pflüger also addressed the rally of the PKK/PYD terror supporters.
According to the Berlin police, four officers were injured after the PKK supporters attacked them with tear gas and flagstaffs. The police added they detained three assailants as a result.
Muslum was released by a Czech court last week after being briefly detained in Prague, despite Turkey's request for his arrest and extradition, drawing the ire of Turkish ministers, who said the move is not in line with international law and is a reflection of supporting terrorism.
On Jan. 20, Turkish Armed Forces (TSK) launched Operation Olive Branch in northwestern Syria's Afrin aiming to clear the PYD and its armed wing People's Protection Units (YPG) terrorists as well as remaining Daesh elements from the region.