Sympathizers of the PKK terror organization once again resorted to fake images, this time in New York streets, to defame Turkey's Operation Olive Branch in northwestern Syria on an international stage, using photos of Syrian children from Aleppo after Russian airstrikes as propaganda images from Afrin.
A truck bearing electronic billboards, rented by the terrorist group's supporters who gathered to protest in front of the United Nations headquarters in New York, drove around the city's streets with images captured by Turkey's official Anadolu Agency in Aleppo in 2016, at the height of Assad regime attacks to recapture the country's once-largest city after it was divided in two between regime and opposition forces in early 2012.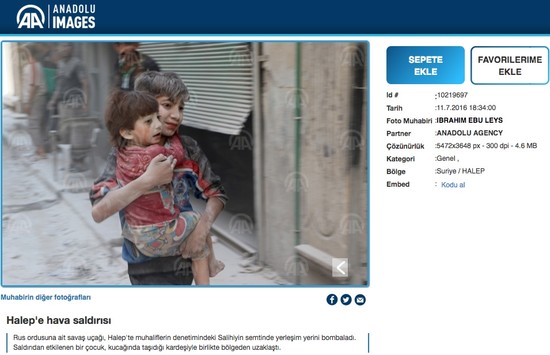 One of the photos – displayed on the truck with a slogan that reads "After 50 days of War, Turkish forces are now just 2 km from the city. Civilians are in danger" – actually depicts two brothers escaping Russian airstrikes on July 11, 2016.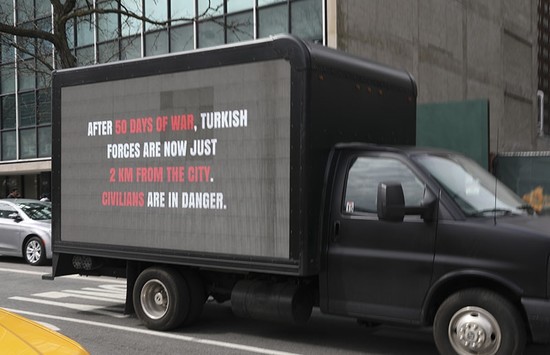 The other photo bearing a wounded child is from October 11, 2016.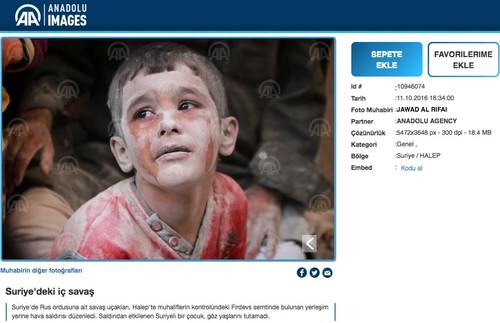 As Turkey launched Operation Olive Branch on Jan. 20 to remove the PKK-linked Democratic Union Party (PYD) terrorist group and its armed wing People's Protection Units (YPG) from Afrin district in northwestern Syria, official social media accounts of the terrorist groups and their sympathizers, as well as other fake accounts, have resorted to numerous lies, fake images and false information regarding the operation, trying to portray the operation as aggression against civilians with the hope of garnering an international intervention.
Another message displayed on the truck accuses Turkey of working with "Al-Qaeda and former members of ISIS (Daesh) to terrorize the people of Afrin."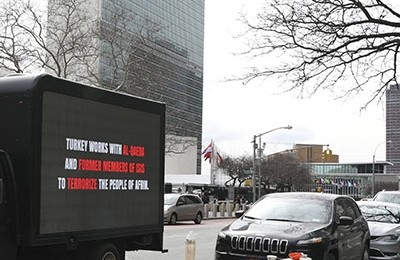 Turkey, which has long fought against the two terrorist groups and targeted by both groups dozens of times, is the only anti-Daesh coalition partner country actively fighting against Daesh on the ground in Syria.
According to the latest numbers announced by Prime Minister Bekir Bozdağ on March 5, a total of 3,000 Daesh terrorists were killed in Turkey's Operation Euphrates Shield in Syria between August 2016 and March 2017. Some 1,000 other Daesh terrorists were killed trying to attack the Turkish camp in Iraq's Bashiqa, which was established near Mosul to train Iraq's Kurdistan Regional Government's (KRG) Peshmerga forces in their fight against Daesh and PKK terror groups. Moreover, 12,538 suspects, including 5,654 foreigners, were detained between 2011 and 2018 for links to Daesh. Additionally, 4,043 terrorist fighters, including 1,858 foreigners, were also detained and 61,158 people from 148 countries were barred from entering Turkey and 6,151 were caught and extradited between 2011 and 2018.
Whereas the YPG-dominated Syrian Democratic Forces (SDF) have been accused of colluding with Daesh and allowing thousands of Daesh fighters and their families to flee from Raqqa and Deir el-Zour.
President Recep Tayyip stated in late January that some of these fighters were brought to Afrin to fight and stage attacks Turkey.
According to the Turkish General Staff, the Operation Olive Branch aims to establish security and stability along Turkish borders and in the region as well as to protect Syrian people from the oppression and cruelty of PKK/PYD/YPG/KCK and Daesh terrorists.
The operation is being carried out under the framework of Turkey's rights within international law, U.N. Security Council resolutions, its right to self-defense under the U.N. charter and respect for Syria's territorial integrity, the military says, noting that "utmost importance" is being placed on not harming any civilians.
The operation in Afrin – bordering Turkey's Hatay and Kilis provinces – was widely expected in the wake of Turkey's Operation Euphrates Shield in northern Syria, which cleared Daesh terrorists from Turkey's border between Aug. 24, 2016, and March 2017. Afrin has been a major hideout for the YPG/PKK since July 2012 when the Assad regime in Syria left the district to the terror group without putting up a fight.
In addition to grave human rights violations against opposing Kurds, local Arabs and Turkmens in areas they control throughout northern Syria, YPG/PKK also forced local people into Afrin town center in order to use them as human shields against Turkish air and artillery strikes.
Turkish military and Free Syrian Army (FSA) forces have encircled Afrin town center as of March 12, and as Turkish and FSA forces encircled the town, the terrorist group is trying to prevent civilians from leaving Afrin in order to slow down the Turkish advance.
Similar moves by the terrorist group were previously criticized by the U.N.