Radical European leftists and the youth wings of the PKK and Democratic Union Party (PYD) have carried out attacks on European companies and properties of German authorities. The attacks took place after the terrorist supporters vowed on Sunday to attack Turkish institutions, business, individuals and European banks and offices of major German political parties, German courts and police stations. "If no one wants to listen to us, we will put every single city of Europe to ashes. No matter how and no matter what is burning on this day, Europe must understand that we will not let Afrin fall," a statement from a PKK-affiliated youth group said.
Since the announcement, the groups have targeted dozens of Turkish nongovernmental organizations, mosques and individuals as well as Europeans.

Torching German army vehicles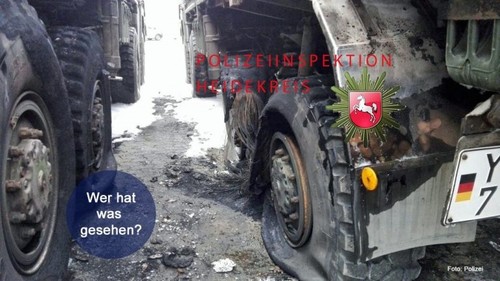 Groups that support the PKK and PYD announced yesterday that they "attacked and burned some vehicles from the German military in Soltau." The trucks were reportedly parked on a wire-secured NATO site in the Soltau industrial area in Carl-Benz-Strasse. "The police press claims today the vehicles attacked were only two ordinary trucks and speak of a caused fire damage of 10,000 euros. In fact, they try to cover up that many vehicles of the Germany military were parked on this site for repair," the statement said.

CDU, SPD buildings attacked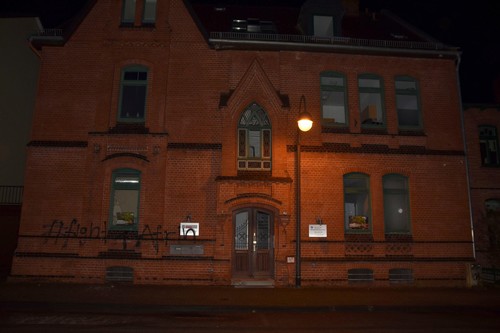 It was also announced that people threw stones at a district headquarters of Germany's ruling Christian Democratic (CDU) in Celle, Germany. A part of the building is also a counseling center for the Germany military.
A photograph of the building shows that graffiti that reads "Fight4Afrin" was written on the wall.

Furthermore, YPG supporters also attacked an office of the Social Democratic Party (SPD) in Hamburg. The attack was dedicated to a German Marxist-Leninist Communist Party (MLKP) fighter who got killed in Syria in 2015.
German police 'ambushed' by PKK-affiliated group
In an online post titled "Police patrol ambushed," a pro-People's Protection Units (YPG) radical German group said: "We ambushed a group of police on patrol in their car with stones" to show solidarity with the Apoist Youth Initiative Europe [AGİA]."
Italian defense company subject to arson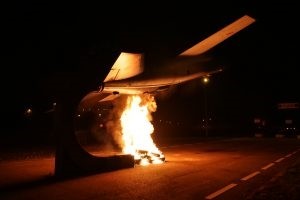 On Monday night, some YPG supporters burned a replica of a warplane in front of the Turin-based Leonardo-Finmecanica defense company.
The Italian company is in the field of military defense systems and reportedly is involved with the Turkish military for the development of surveillance systems for coastal and maritime borders, armaments, helicopters and radar systems.
Police investigate attacks on German defense companies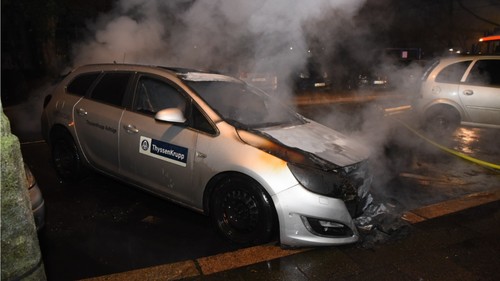 A group of YPG supporters torched a company vehicle of German defense supplier Thyssen Krupp.
Also on the same night, people threw stones and bottles at a Rheinmetall factory. "The German defense industry is a natural and legitimate target," a statement by the attackers said.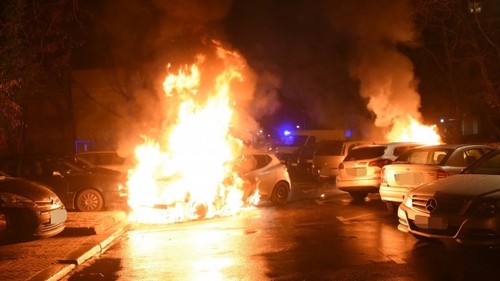 Rheinmetall is currently modernizing Turkey's German-made Leopard tanks.
German bank in Hamburg attacked twice
Following the statements on Sunday, a group attacked a Commerzbank branch on Hamburger Street in Hamburg. "We smashed their windows and left painted slogans.
Commerzbank profits from its investments in defense companies such as Kraus-Maffei Wegmann [KMW] and from the war in Afrin.
The Leopard 2 tank was produced by KMW along with many other German companies," a statement from an AGİA-affiliated group said.
A Commerzbank branch in Lichtenburg, Berlin was also similarly attacked. When Daily Sabah contacted, the Commerzbank declined to comment on the incidence.
Firebombs thrown at Greek police, clashes with Paris police
In a video shared on social media, a pro-YPG group is seen throwing Molotov cocktails at Greek police outside the Turkish Consulate in Thessaloniki, Greece.
The crowd also shoots fireworks at the police. Later on Tuesday, a group of YPG supporters were stopped by Paris police before reaching the U.S. Embassy.
The group clashed with police with sticks and threw objects at the officers. Videos show the crowd chanting: "Long live leader Apo," in reference to imprisoned PKK leader Abdullah Öcalan.