Turkey's domestically-produced unmanned aerial vehicle (UAV), the Bayraktar Tactical Block 2 (TB2), has provided critical tactical support to the Turkish Armed Forces (TSK) in the fight against terror during Operation Olive Branch in northern Syria, enabling a swift and precise victory.
The tactical support of the TB2 enabled Turkish forces to clear the Afrin region of PKK-linked People's Protection Units (YPG) and Daesh terrorists in less than two months, with targeted precision that minimized impact on the property and lives of civilians in the region.
On March 18, the TSK and the Free Syrian Army (FSA) successfully entered Afrin town center and liberated it from terrorists.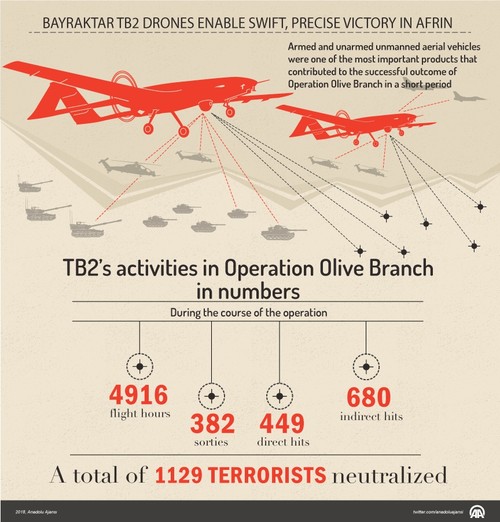 Since the operation began on Jan. 20, armed and unarmed TB2s have carried out 382 sorties during 4,916 hours of flight time, and aided in the neutralization of 1,129 terrorists.
Of the terrorists eliminated, 449 were neutralized directly by use of armed TB2 and 680 were neutralized indirectly in anti-terror operations assisted by air support from the UAV.
As of April 7, the total number of terrorists neutralized by the TSK during Operation Olive Branch is 3,991. With that count, TB2 operations have directly accounted for 11.3 percent of terrorists neutralized, and indirectly for 17 percent, totaling 28.3 percent of all terrorists neutralized during the operation.
The Turkish security institutions use the term "neutralized" in reference to terrorists captured dead or alive, or those who surrendered during the operations. However, the term is usually used for the terrorists who were killed in the operations.
The Bayraktar TB2 armed drones, produced by Baykar Makina and operationally used since 2015, are the first and only armed UAV to be included in the TSK inventory. They have provided effective surveillance, reconnaissance and fire support to Turkish security forces in the Operations Euphrates and Olive Branch.
Developed and produced nationally and originally with electronic, software, aerodynamic, design and sub-main systems, the Bayraktar TB2 is one of the world's most advanced UAV system in its class with its flight automation and performance.
It boasts a record altitude of 8,239 meters (27,030 feet) for over 24 hours in the air, can carry 150 kilograms (330 pounds) of cargo and can be operated day and night.