Turkey entered a new period yesterday by putting new counterterrorism laws into effect. The laws came as a necessity after the state of emergency ended recently, mainly due to the past experiences of terrorism as well as the current threats that still haunt the country today.
In June, President Recep Tayyip Erdoğan signaled in a live interview that the state of emergency, that was declared after the July 15 failed coup attempt and extended seven times, was coming to an end.
On July 17, the state of emergency officially came to end after two long years. However, with its end, the risk of turning back to a pre-state of emergency era is real. Before the emergency rule there was a time full of terrorist attacks, causalities and trauma.
The state of emergency was initially declared to establish a strong fight against the Gülenist Terror Group (FETÖ) after their failed coup attempt which left 250 people dead and nearly 2,200 others injured.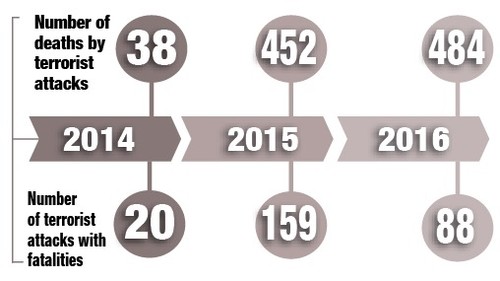 In addition to the fight against FETÖ, the state of emergency was also putting an end to a period that was full of terrorist attacks, mainly by the PKK and Daesh terrorist organizations, without having a major effect on ordinary citizens.
Still, during these two years, security forces have arrested thousands suspected of involvement in the coup bid, many who once held positions in the government and military and pose a continuing threat. The state of emergency also made it possible for suspects, who were detained in the failed coup's immediate aftermath, to be kept in police custody for extended periods.
Before the state of emergency, there were 94 major terrorist attacks with high casualties in the two-year period, starting from 2014 until the July 15, 2016 coup attempt. During the state of emergency, however, which also lasted for two years, that number decreased significantly to 28 terrorist attacks, proving that the measures that were taken have been a success.
Most of those 94 terrorist attacks, which caused the deaths of hundreds of people while injuring thousands of others, were carried out by Daesh and the PKK.
Apart from the causalities, the attacks also had psychological and economic consequences on the Turkish people. Creating a constant atmosphere of fear, the attacks caused people and their loved ones to feel unsafe in their own country.
Some of the biggest attacks took place in the country's capital Ankara. On Oct. 10, 2015, before a demonstration organized by several nongovernmental organizations that was called "Labor, Peace, Democracy," a suicide bomber detonated himself and killed 109 people and injured more than 500 at a busy railway station in Ankara.
Another attack took place on March 13, 2016 at Güvenpark near Kızılay square, one of the most populated areas of the capital. An automobile full of bombs exploded and killed 37 people. The Kurdistan Freedom Hawks (TAK), a terrorist suborganization of the PKK, took responsibility for the attack.
TURKISH TOURISM WAS AFFECTED HEAVILY FROM TERRORIST ATTACKS
The influence of the attacks on the economy was also quite destructive. There has been a remarkable decrease in tourists following a Jan. 12, 2016 terrorist attack in Istanbul's famed Sultanahmet Square, one of the most visited places in the country. In the attack which Daesh took responsibility for, 10 German tourists were killed by a suicide bomber.
Another attack that hurt tourism was also carried out by Daesh on June 28, 2016 at Istanbul Atatürk Airport. In the international terminal of the airport, three separate suicide bombers blew themselves up and killed 45 people and injured 239 others.
Similarly, last year on New Year's Eve, another Daesh attack took place at a night club in Istanbul which left 39 people dead, including some tourists. While the country hosted 36.8 million foreign tourists in 2014 and 36.3 million in 2015, the figure fell sharply to 25.3 million in 2016, which was mostly the result of the terrorist attacks. However, the numbers rose again to 32.4 million in 2017, following the declaration of the state of emergency, according to a national statistical body (TURKSTAT).
All of these attacks are still alive and fresh in people's mind in Turkey. Although a state of emergency rule is no longer necessary thanks to the extensive measures that have been taken, a law that would strengthen the state's hand against the terrorist elements is still needed to prevent any possibility of going back to those days.
As far as the terrorist threats that come from outside of the country's borders are concerned, Turkey is already quite active in its counterterrorism activities. The Turkish military's cross-border operations, namely Operation Euphrates Shield and Operation Olive Branch, both of which aimed to clear northern Syria from Daesh, the PKK and its Syrian affiliate the People's Protection Units (YPG), constitute the main parts of the country's fight against terrorism.
FRANCE MODEL WILL BE EXAMPLE FOR POST STATE OF EMERGENCY PERIOD
The fight against terrorism will also continue within the country, thanks to this new law. Media reported on July 6 that Turkey will adopt the French model in this context. The French government lifted the state of emergency on Nov. 1 last year. The European Union country imposed the state of emergency after terrorist attacks on Nov. 13, 2015 in which 130 people were killed.
After it was lifted, the French government expressed how helpful the state of emergency was in providing security within the country by saying intelligence agencies thwarted more than 30 attacks. In order to avoid a possible gap in security that might arise from lifting the state of emerge
ncy, France immediately introduced a new set of rules that basically provided a lighter version of the state of emergency.
In France's new law, there are movement restrictions that enable the government to forbid persons with links to terrorist organizations from leaving their town or city. They can also be banned from specified places. House searches also can still be done but only to prevent acts of terrorism. Authorities can also close places of worship if extremist ideas or hatred and discrimination are being propagated. Under France's new laws it is allowed for security forces to check the identity of persons within a 10-kilometer radius of ports and international airports in order to prevent cross-border crime.
In the Turkish model, on the other hand, state of emergency may be imposed to specific districts where terrorism affects people the most, if necessary. The authority of governors will be enhanced. Administrative control mechanisms will be established and the governors will be able to impose curfews. In addition, the State Personnel Presidency will be informed about decisions regarding people dismissed from public institutions within 15 days. Their passports and registered guns will be canceled. People who are reinstated to their posts will receive the social and financial rights they were denied during the period they were not working, as well.