The Turkish military has expanded its counterterrorism operations against the PKK to northwestern Iraq's Sinjar region, the area the terrorist group has used as a hideout and new command-and-control headquarters for many high-ranking members.
On late Wednesday, a joint counterterrorism air operation by Turkish intelligence and the military was conducted in Sinjar, leaving a high-ranking PKK terrorist, Ismail Özden, dead.
Özden, 66, codenamed Mam Zeki Şengali, was reportedly the group's highest-ranking terrorist in the Sinjar region. He is also the first terrorist on the red category of the Interior Ministry's most wanted list killed in a cross-border operation.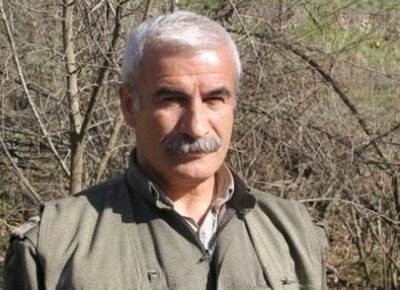 The Interior Ministry's list classifies terrorists in different color groups, red, blue, green, orange and gray, depending on the level of threat they pose to national security. Red is the highest threat level.
Airstrikes on the Sinjar Mountains came a day after President Recep Tayyip Erdoğan welcomed Iraqi Prime Minister Haider al-Abadi in Ankara.
"We have agreed on full cooperation in the fight against terror. We do not differentiate between terror groups. There is no difference between Daesh or the PKK," Erdoğan said in a joint press conference with Abadi.
The president added that bilateral cooperation would be increased to eliminate the PKK from Iraq.
Abadi, for his part, said Iraq shares the same stance with Turkey on security.
"We are of the same opinion for border security. We do not want any terror groups to be on Iraqi soil. We are against that," Abadi said.
Presidential Spokesperson İbrahim Kalın said yesterday in a press conference after a Cabinet meeting that operations "similar to Sinjar will continue intensely going forward."
PKK settles in area after Daesh's expulsion
The PKK's Syrian affiliate, the People's Protection Units (YPG), settled in the Sinjar area after Daesh's expulsion from northern Syria and took control of the Sinjar Mountains, connecting the PKK's Syrian and Iraqi elements.
In mid-2014, the PKK and affiliates from the YPG managed to establish a foothold in Sinjar on the pretext that it was protecting the local Yazidi community from Daesh.
After the YPG and its main backer, the United States, failed to listen to Ankara's warnings on the removal of the terrorist group, Turkish air forces hit PKK targets on Mount Sinjar in northern Iraq and Mount Karachok in northeastern Syria to cut the corridor.
According to the military, the airstrikes hit targets to prevent the terrorist group from sending terrorists, arms, ammunition and explosives to Turkey, killing nearly 100 terrorists, including four high-level militants. Turkey has scaled up its military deployment since March in northern Iraq's Qandil Mountains to eradicate PKK leadership, increasing pressure on PKK terrorists in Sinjar, used by the PKK as a logistical command since 2016. Both Sinjar and Karachok are some 90 kilometers south of the border with Turkey.
The PKK has used northern Iraq's Qandil mountains region as its headquarters since the 1990s when it left Lebanon's Bekaa Valley after using it as training grounds for many years.
Erdoğan said in June that the Turkish military would strike PKK camps in northern Makhmour, Iraq and in Qandil and Sinjar if the Iraqi central government and the U.N. do not take steps to clear the area of militants. Ismail Özden was actively operating in Europe from 1992 to 1996 when he was arrested in Germany for being a PKK member and attacking the workplaces of Turkish people. However, he was released in 1998. In 2018, he spearheaded terror activities of the PKK and its affiliate groups in Sinjar.
The anti-terror operation, which killed eight terrorists including Özden, was named after Bedirhan Mustafa Karakaya, an 11-month-old baby killed in a PKK terror attack in the eastern province of Hakkari.
Earlier this month, Nurcan Karakaya and her baby boy, Bedirhan Mustafa, were killed as result of remote detonation of a PKK explosive. They were returning from Hakkari's Yüksekova district where Karakaya's husband is stationed as a soldier.
Karakaya died on the spot, while her baby succumbed to his wounds at Yüksekova Public Hospital where he was undergoing treatment after the explosion.
The PKK, listed as a terrorist organization by Turkey, the U.S. and the EU, has waged a terror campaign against Turkey for more than 30 years and is responsible for the deaths of nearly 40,000 people, including women and children.