Kemal Öksüz, a high ranking member of the Gülenist Terror Group (FETÖ) dubbed as its "Houston imam," was arrested Wednesday in Armenia over a U.S. arrest warrant issued for breaching congress ethics and fraud.
Öksüz, who changed his name to Kevin after receiving U.S. citizenship, was being sought with a red notice by the Interpol, according Armenpress agency. Öksüz was running a business and an NGO in Armenia, according to the report.
Armenpress reported that Armenian police said Öksüz was being sought since the very first day of being declared wanted, and the Armenian police chief personally supervised the operations.
A spokesperson for U.S. Department of Justice said Thursday that ​Öksüz is "currently being held by Armenian authorities pursuant to an arrest warrant issued by the United States."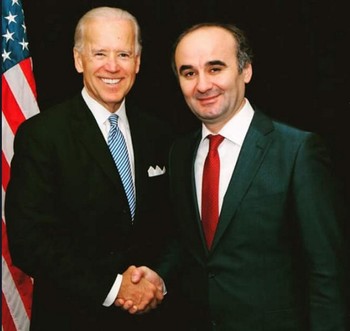 A former businessman, Öksüz was the chairman of the Texas-based NGO Turquoise Council of Americans and Eurasians (TCAE), a Gülenist regional umbrella organization that controlled several other Gülenist non-profits.
As a common practice to promote their political agenda and business interests, which is mainly exploiting the U.S. charter school system with dozens of schools, Gülenists often organized paid-for trips to Turkey and its surrounding region for U.S. senators, congress members, state officials and local officials, in addition to dinners, award events and panels.
Öksüz and the TCAE came under federal scrutiny by the Congressional Ethics Committee for coordinating a trip in 2013 where dozens of U.S. Members of Congress traveled to Azerbaijan for a conference illegally sponsored by its state oil company, SOCAR. He previously pleaded the Fifth Amendment while politicians involved in the trip were fined by the ethics committee.
The report said that the U.S. declared Öksüz wanted on Aug. 23 on four counts of fraud, including submitting falsified documentation to the ethics committee of the U.S. House of Representatives. Accordingly, Öksüz said that his NGO, which covered the funding for the trip, did not receive funds from any source but the trip was in fact funded by SOCAR.
A Washington Post article from 2015 reported that ten U.S. Congress members and 32 staff members who attended the trip also received valuable gifts worth thousands of dollars. Three former top aides to President Barack Obama appeared as speakers at the event. The funding of the trip raised eyebrows in Washington D.C. as the Post reported that the trip came at a time when SOCAR, which has joint projects with Russian and Iranian companies, was looking for exemptions from U.S. sanctions targeting Iran for the Southern Gas Corridor project involving British Petroleum (BP), Turkish Petroleum (TPAO), Turkish Petroleum Pipeline Corporation (BOTAŞ) and many others.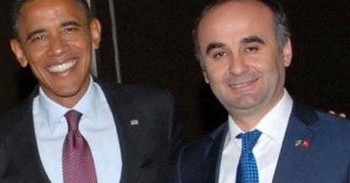 It is not clear whether SOCAR's trip had an effect on the decision making of U.S. lawmakers and Obama since various U.S. oil giants like ExxonMobil and Chevron, in addition to U.K.'s BP and Norway's Statoil have stakes in Azeri oil and gas fields in the Caspian Sea, alongside Russian and Iranian companies. However, some of these lawmakers sponsored legislation promoting U.S. energy interests in the Caspian.
The case' ties with Armenia's arch enemy Azerbaijan's national oil company and an energy project bypassing Armenian territories might have impelled Armenian officials to promptly respond to the case.
Öksüz was also the owner of a company that served as a major vendor for Harmony Public Schools in Texas, which is the largest Gülenist school network in the U.S., according to the book "Empire of Deceit: An Investigation of the Gülen Charter School Network" published by attorney Robert Amsterdam and his law firm, which represent Turkey in lawsuits in the U.S. His company signed more than $50 million in contracts in a year, making Öksüz a millionaire in the process.
Harmony operates more than 50 schools in Texas and receives more than $250 million in public funding every year. It also serves as a regional oversight entity for all Gülen-linked school networks and organizations in several states included in the shadowy group's Greater Texas region.
Gülenist schools are being accused of exploiting and defrauding the charter school system by emigrating a large number of their sympathizers to the U.S. with H1-B visas and using affiliated vendors to funnel millions of U.S. public money into their own organization.
Öksüz and the TCAE are also known for hefty donations mainly aimed at the Democratic Party and its candidates on federal and state level. Turkish media reports after U.S. presidential elections in Nov. 2016 cited that Gülenists donated more than $2 million in Democratic candidate Hillary Clinton's campaign.
Öksüz was often spotted in events linked to top-ranking Democrats
Faruk Taban, the president of the Gülen-linked Turkic American Alliance who shared this photo showing Öksüz attending the State of the Union address by President Obama, was the person who signed the sponsorship form of a congresswoman for 2013 trip to Azerbaijan, according to USA Today.

Many high-ranking Gülenists publicize their attendance to events and share their pictures with federal and state officials to boast about their relations with the top U.S. officials in state and county level to persuade local officials and community to allow them to open new charter schools, which in turn help Gülenists expand their financial sources and bring in more followers to the U.S.
Initial reports said that Kemal Öksüz was the brother of former theology professor Adil Öksüz, who is known as the highest-ranking "imam" that directed FETÖ-linked former soldiers and officers in the attempt to overthrow the democratically-elected Turkish government on July 15, 2016. which killed 250 people and injured 2,200 others.
However, a statement by the Turkish National Police later on Thursday said that Kemal Öksüz had no relationship by affinity to Adil Öksüz. Kemal Öksüz is being sought on FETÖ membership charges by two separate court orders issued in 2016 and 2017 and has a ban on travelling abroad, it added.
The statement said that Öksüz's extradition from the U.S. was requested through the Interpol as he has no valid travel documents, but the response was that Öksüz has U.S. citizenship and therefore his extradition or deportation is not possible.
The statement also confirmed the red notice issued by U.S. authorities on Aug. 23 on fraud charges.
It added that information on Öksüz's arrest in Armenia has been requested from the Interpol division in that country.