Relations between Mongolia and Turkey were strained in July after a high-level Gülenist Terrorist Group (FETÖ) member in Mongolia was not extradited to Turkey. Following the failed extradition, Turkey announced that allowing FETÖ to operate freely in Mongolia would be detrimental to Turkish-Mongolian relations.
Responding to Turkey's announcement, Mongolia's Ambassador to Ankara Ravdan Bold stressed that they understood Turkey's concerns on FETÖ-affiliated schools and all five of the said schools' administration would be eventually transferred to the Mongolian Ministry of Education. Bold also added that individual members of FETÖ would not be able to renew their education and employment visas and be asked to leave the country this year.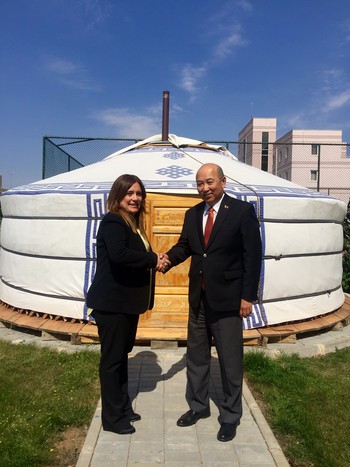 Currently, around 1,300 students are in these five schools that have been operating in Mongolia since 1994. Empati, the company that owned these schools, sold them to a German company that serves as a front for FETÖ. The Mongolian Ministry of Education did not allow this company to acquire the necessary licenses to operate the five schools. On this subject, Ambassador Bold said that the technical process to seize these schools from FETÖ is in progress and that these schools are losing students by the day.
FETÖ and Moon are two sides of the same coin
While drawing analogies between the Moon Cult and FETÖ as both of them operated through schools and companies, Bold expressed his belief that both of these harmful entities created concerns for Mongolia's national security. Bold said, "They are two sides of one coin."
"As Mongolia's Ambassador to Turkey, I fully understand Turkey's concerns, and I do my best to convince Mongolian politicians on the issue. Today, terrorism is not only one country's issue, it is an international issue," Bold added.
The Unification Church, known as the "Moon Cult," is highly controversial in Mongolia, as it was accused of trying to edit textbook content in its favor. An Education Ministry official resigned after coming under fire for joining the church in Mongolia in 2016. Members of the Church are often referred to as "Moonies" and have been active in promoting events in Mongolia through education and trade activities.
The Unification Church was founded by South Korean businessman Sun Myung Moon in 1954. It is active in South Korea, Japan, Mongolia and several other South East Asian countries. The organization is controversial for practices including mass arranged marriages.
Moon visited Mongolia in October 2005. He came to Ulaanbaatar, the capital and largest city of Mongolia, with his wife Hak Ja Han Moon and gave a speech titled, "Strong family life is the true role model for peace and harmony." Moon proclaimed himself as the Messiah in 1936, creating a church that has become a global phenomenon over the years. Today, the church claims to have around 4 million members in 120 countries, 100,000 of them residing in the United States.
Church leader Moon also developed good relationships with conservative American leaders, including Presidents Richard Nixon, Ronald Reagan and George Bush the senior. However, he was found guilty of tax evasion in the United States, where he lived for 30 years, and served 13 months of an 18-month sentence.
As he grew older, Moon quietly handed over day-to-day control of his multibillion-dollar religious and business empire, companies ranging from hospitals, newspaper and universities to a ballet troupe.
"Our role is not inheriting that messianic role," Moon once said.
Commenting on the Moon Cult leader Sun Myung Moon, Bold stated that the Moon Cult was quite influential in Mongolia until three years ago, having around $3 billion invested in the country. After a fall out between two sons of Moon, one of whom was leading the cult's operations in Mongolia, this investment was transferred to Hong Kong, he said.
Underscoring the ulterior motives of the Moon Cult and drawing an analogy with FETÖ, Bold said, "I talked to Mongolian politicians and asked them to look at the present example. FETÖ is just like the Moon Movement. If you don't understand Gülen and FETÖ, look at Moon, what he did to Mongolia and what happened to him. It's exactly the same process. Faces may be different but cults and purposes are the same. They are two sides of one coin."
Stating that he had indeed read a book by Gülen around five years ago, Bold asserted that the book was interesting as the expressions were seemingly peaceful, hiding the underlying extremism of FETÖ. Bold also said that the Russian government warned Mongolia about the threat posed by FETÖ while adding that the Russian government closed down fifty FETÖ-affiliated schools in Russia.
Fate of FETÖ-affiliated ​schools
Bold signified the peaceful atmosphere of his country, expressing that Mongolian people feel far from all kinds of terrorist threats. Indeed, Bold asserted that most of the Mongolian citizens along with some politicians would not know anything about FETÖ. "If you told them the existence of these [FETÖ-affiliated] schools in Mongolia, they would be surprised, not because they like it" he said.
Bold underlined that terrorism has become an international issue and that the Mongolian politicians are seeing FETÖ being blacklisted by many countries and that they will follow this suit.
Touching on a Turkish company owned by a FETÖ member who has been living in Mongolia for 25 years and has applied for citizenship, Bold said that the Mongolian government has rejected the appeal. Bold stated that the said company recently informed the Mongolian Ministry of Education about the sale of FETÖ-affiliated high schools to a German company, "Yet, the Ministry of Education denies to provide necessary licenses to this German company. In this respect, these high schools are in limbo. So, now we're taking some steps to eliminate FETÖ presence in Mongolia; step by step, not making too much noise."
According to Bold, Mongolian parents of children going to these schools are understanding the issue and withdrawing their children from the said schools.
"The school had around 3,000 students before; now, it's dwindling," he said. Bold also added that around 200 Turkish citizens were working at the said schools until the FETÖ led coup attempt in Turkey; he stated that now there are 20 Turkish citizens working at these schools while the rest's visas were not extended by the Mongolian government.
Bold stated that the government's priority is to take over the said schools and then decide whether to keep the control of these schools or allow Turkey's Maarif Foundation to take control of them. Talking about their road map, he stated that the first step would be to replace the teachers with the Mongolian Ministry of Education staff.
According to Bold, the second step would be to acquire the said schools; however, he said that acquiring these schools could be problematic as they are private property and the Mongolian government has little control over private property.
"Buying out these schools is also challenging because it means financing terrorism," he said. Nevertheless, Bold expressed his belief that the Ministry of Education is scrutinizing these schools and that everything is under control.
Technical rather than political
Regarding the process of eliminating FETÖ, Bold asserted that the process was all about technicalities rather than politics. He also talked about the extradition process. Touching on the most recent extradition incident concerning a high-level FETÖ member, Bold stated that Mongolia does not have an extradition system, "The people in question are reassessed and denied visa extensions. This is why these people have to be asked to leave." He added that the high-level FETÖ member will leave the country by the end of 2018 even though the timetable has yet to be defined.
Possible cooperation between Turkey and Mongolia
Talking on bilateral relations between Turkey and Mongolia, Bold asserted that the two countries share a special bond despite the significant geographical distance, "We see Turkey as our spiritual neighbor because of the shared cultural heritage and familial feelings toward each other. For instance, in terms of educational cooperation, almost 1,200 young Mongolian students were educated at and graduated from Turkish universities during last decades. They came back to Mongolia and right now, you can find Mongolians working at public organizations, the ministries and similar institutions who graduated from Turkish universities. So, we are close to each other in this sense; yet, because of the geographical distance between our countries, trade and economic cooperation has not reached the desired level. We are also one of the smaller economies. The Mongolian economy only consists of two branches, Mining and agriculture. Agriculture is an important field in which we are looking to initiate a much crucial cooperation with Turkey."
Continuing on possible fields of cooperation, Bold suggested that his country could offer Turkey quality meat, which is one of the largest export products of Mongolia. He expressed that Mongolian meat is superior in quality and is ecofriendly as the cattle wander around and feed off from the pasture. The ambassador stated that 55,000 tons of meat was exported last year and that Mongolia could easily sell 10,000 tons of meat to Turkey.
In addition to meat, Bold asserted that cashmere could also be exported to Turkey as Mongolia is the most prominent producer of it, producing approximately 60 percent of the cashmere on the world. He expressed that Mongolian cashmere is famous, especially in colder areas of the world like Switzerland, Canada and Scandinavia.
More on cooperation, Bold suggested two possible projects, "The first project is called Orkhon Valley which is a bit complex. There is a small city called Karakorum, an ancient city in Mongolia. Based on this ancient city and the priceless Turkic monument located there, Mongolia and Turkey agreed to build a tourism complex in this area, including a small airport along with an expansion to the existing facilities. The two countries also decided to renovate historical and cultural monuments that are closely linked to Turkic history. We can attract tourist from Turkey and other Turkic republics in Central Asia. Second project is to implement agriculture initiatives to produce meat for the Turkish market as well as for the markets in the north or the south of Mongolia. As you know, Mongolia is surrounded by two big markets. If Turkish investors come to Mongolia and invest in Mongolian livestock, we can export these to the Russia and China as well."
Bold added that former Prime Minister Binali Yıldırım proposed to increase the $55 million trade volume between Turkey and Mongolia to around $300 million in the near future. He underscored the potential of trade as Mongolia perceives Turkey as a potential market.
On the subject of the investment environment, Bold asserted that the current environment is very welcoming, especially for Turkish investors. Referring to Mongolian citizens who graduated from Turkish universities, he suggested the only issue is the geographical distance and nothing else. In this respect, Bold urged that there should be more flights between Turkey and Mongolia as it possibly the biggest obstruction for Turkish investors who want to do business in his country.