Most press is paid to dizzying number of Syrians seeking refuge in Europe, but thousands have also preferred to stay in Turkey.
Moreover, the hesitancy of EU countries in accepting refugees and barely agreeing to sit at a table on the issue with Turkey, one might claim that it is the most affected country in the world. Negative political and public reactions to the refugees have jaded many Syrians and discouraged them from taking the journey. .
Haysam Ali, 32, a father of four from Hama, went to Germany but then returned back to the camp in Turkey on Nov.7. He claims that after landing in the southeastern province of Gaziantep, he even kissed the ground at the airport.
"If they [other countries] want to help us, they should accept any Syrian who has a passport into their countries. They should open their borders but they do not."
The father spent 15,000 euros and 75-days adventuring to Europe with his 10-year-old son Muhammad Ali; however, he now has nothing but exhaustion to show for his efforts to secure a better life.
Meanwhile, his friend Abderrezak al Omar, 35, offers Syrian tea for visitors and waits his turn to tell his own travels.
On the way to Germany, Ali was swindled in Hungary and lost nearly 1,000 euros. His frustration is palpable and fills the room when he explains what happened when he was in Europe.
"Right in front of me, they [security officers] shocked a pregnant woman. They sent anyone who crossed the border into jail and kept them for five, 10 or 15 days," Ali said.
He indicated that what Syrians were exposed to in Germany is no different to Hungary or any other transit country.
Previously, a video went viral on the Internet and showed a camerawoman for a private television channel in Hungary, Petra Laszlo, tripping migrants fleeing police, including a man carrying a child.
Later on the channel she was working for, N1TV, also known as Nemzeti TV, said in a statement that she was dismissed from her job. "We have terminated the contract of the camerawoman with immediate effect today," the statement read.
Ali recalls that Neo-Nazis became serious trouble for Syrians in Berlin and explains how they were discriminated against by several Kurdish-origin people living in Dortmund.
"Kurds discriminated against us by favoring their ethnic kin who came from Kobani and Qamishlo. We were second-class, even among the refugees."
Double standards applied to Syrian refugees by EU countries have become a matter of debate in September. While photos of a Danish police officer playing games with a Syrian refugee child went viral, later on the country tried to scare off refuge seekers by advertising in four Lebanese newspapers with an unmistakable message: We don't want you in Denmark.
Al-Omar, father of six children from Idlib, had been in Graz, Austria in July and said the officials intentionally maltreated them through exposing refugees to bad living conditions.
"We slept on the streets during our first week. Then they accommodated us in a pension at aremote location in the mountains that took two hours to reach by bike. Three to four people were living in the same room. It was a soul-shattering situation."
However his return to Turkey in September did not spell the end of his problems, especially his mentally ill daughter who needs urgent treatment.. When asked about what he expects from the G20 summit, he demands nothing except that his daughter be treated.
"Apparently, the problem cannot be solved soon. It seems as if he [Bashar Assad] will stay in the country."
Ali agrees with him, saying: "The whole world has sided with him. Russians are bombing us. How will he be removed?"
Roughly half of Syria's population has been displaced by the violence that started over four years ago, with over 4 million Syrians now seeking refuge in neighboring countries.
Migration management in Turkey
Because of unequal distribution of income, political instability, barren soil, draught and ethnic and religious conflicts millions of people emigrate from their countries with the hope of a better life. According to data gathered by the U.N., if migrations continue to increase at the same rate of the last 20 years, it is expected that the number of international immigrants will rise to 405 million.
Due to its geopolitical position Turkey has witnessed many important migrations throughout its history. While Turkey opened its doors to 2 million people between 1923 and 2011, it received more than 2 million people in the last five years due to the war in Syria.
Migration Management Directory (GİGM)

With increasing political and economic power, Turkey has transformed from a transit country into a target country. Due to conflicts in the surrounding regions, especially in Syria and Iraq, many people have sought refuge in Turkey. Developments around the world and in the region revealed the need for a law that would create efficient immigration policies while also being based on migrant rights derived from human rights regarding national security and interests.
The Foreigners and International Protection Law number 6458, was accepted by Parliament and came into effect on April 11, 2013 after a participatory and transparent process with national and international partners. The law consists of three parts: Foreigners, international protection and the institutional structure. As a part of negotiations with the EU, with this law, which will prove beneficial for the opening of the 24th Chapter, the Migration Management Directory (GİGM) was founded as a civilian authority bound to the Interior Ministry to manage operations regarding immigration and asylum.
The GİGM has become operational for only a year from April 11, 2014. The GİGM's duties were determined to manage regular and irregular migrations, international protection and temporary protection, adaptation, statelessness, protection of human trafficking victims and to implement the secretariat of immigration policies board.
With the establishment of provincial organizations in all of the 81 provinces in Turkey on May 18, 2015, the Göç-Net system went online in order to implement all operations digitally while being financially and technically sustainable.
Irregular immigration

There has been a significant increase in irregular immigration to Turkey within the last 10 years. The increase in the last five years indicates the crucial nature of the situation.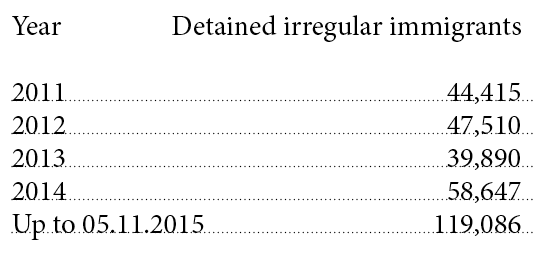 The Coast Guard Command has rescued thousands of immigrants trying to reach Europe on the Aegean and Mediterranean routes since 2011. There were 546 people rescued in 2011, 2,531 in 2012, 8,047 in 2013, 14,961 in 2014 and 76,543 so far in 2015.
In this manner, with the coordination of the GİGM, the Irregular Immigration Management Coordination Board was established and the Irregular Immigration Strategy of Turkey and National Action Plan came into effect on March 5, 2015.
There are 14 readmission agreements, including one with the EU, which foresees the return of irregular immigrants to their countries.
A national action plan was created to make the readmission agreement signed with the EU on Dec. 16, 2013 and came into effect on Oct. 1, 2014 systematically operational. According to the 23rd clause of the agreement, a project package was proposed to the EU and, as a part of this, six readmission centers were established. In addition, there is an existing planning for the establishment of 12 readmission centers funded by the national budget.
The Syrian crisis

Turkey has not been indifferent to the people who fled Syria due to the war that started in 2011. Turkey has maintained an open door policy. Today, the number of registered Syrian refugees has increased to 2,213,413. Some 260,285 refugees stay in 25 temporary settlement centers established in 10 cities.
According to the 91st clause of the Foreigner and International Protection Law, Syrian citizens, stateless people and asylum seekers were granted temporary protection.
Therefore, the application of temporary protection has gained a legal basis and a temporary protection identification document is prepared for the people who are granted temporary protection. This identification document:
- Ensures a foreign national's legal stay in Turkey
- Provides access to basic services such as education and healthcare in the cities where they are allowed to stay
- Allows for the application for a work permit
- Allows them to subscribe for services including electronic communication services
- Allows them to have a temporary license plate for their vehicles.
The total aid provided for Syrian refugees is $7,271,506,551.05. The international humanitarian aid support that Turkey has received is $417,485,970.
Turkey has officially become the country home to the highest number of refugees, as it opened its doors to more refugees than the sum of refugees in Lebanon and Jordan. Yet the U.N. Chief Executives Board has granted fivefold more financial aid to Lebanon and Jordan than it has to Turkey.
YİMER ALO 157

The Foreigner Communication Center (YİMER ALO 157), which was established on Aug. 20, 2015 under the GİGM, is available 24/7 to provide efficient, continuous and quick service and answers questions from foreigners in Turkey in Turkish, Arabic, English and Russian. Also serving as a line to help human trafficking victims, YİMER provides help to foreigners who are in need of immediate support in coordination with the security forces. Until Nov. 10, 2015, 1,115 people were rescued by the Coast Guard Command through the YİMER ALO 157 hotline.
Facts on refugees hosted in Turkey

- Number of registered Syrian refugees in Turkey: 2,207,936
- Number of Syrians in AFAD settlement centers: 260,936
- Number of Iraqis in AFAD settlement centers: 14,469
- Total amount Turkey spent for refugees: Over $8 billion
- Total amount of aid provided by Turkey across the Syrian border: TL 1.136 billion
Healthcare in Turkey for Syrians

- 300,000 medical operations
- 70,000 childbirths
- 420,000 inpatient treatments
- 10 million clinic treatment services
Education Turkey provides for refugees

- 300,000 refugee children are being educated
- In September 2014, the "Circular on Education for the Foreigners" was published
- To overcome the language barrier, 9,369 Arab teachers are working in education
- 70,000 Syrian adults were taught a profession through courses in AFAD settlement centers