Some 38 percent of U.S. multinationals, universities and non-profits surveyed by an arm of the State Department are allowing female employees to defer travel or leave countries where the Zika virus has been reported. A fifth of the 321 respondents said they were giving male employees similar options, a sign of how employers' travel policies are diverging as they react to the mosquito-borne virus and uncertainty about the way it is transmitted. Scientists are investigating a potential link between Zika infections of pregnant women and more than 4,000 suspected cases in Brazil of microcephaly, a condition marked by abnormally small head size that can result in developmental problems. The State Department's Overseas Security Advisory Council (OSAC), which has a membership of more than 3,500 U.S. companies and institutions that do business abroad, surveyed its members and reported the results on Feb. 5. Boeing Co, Microsoft Corp, Walt Disney Co and others assist OSAC, according to its website.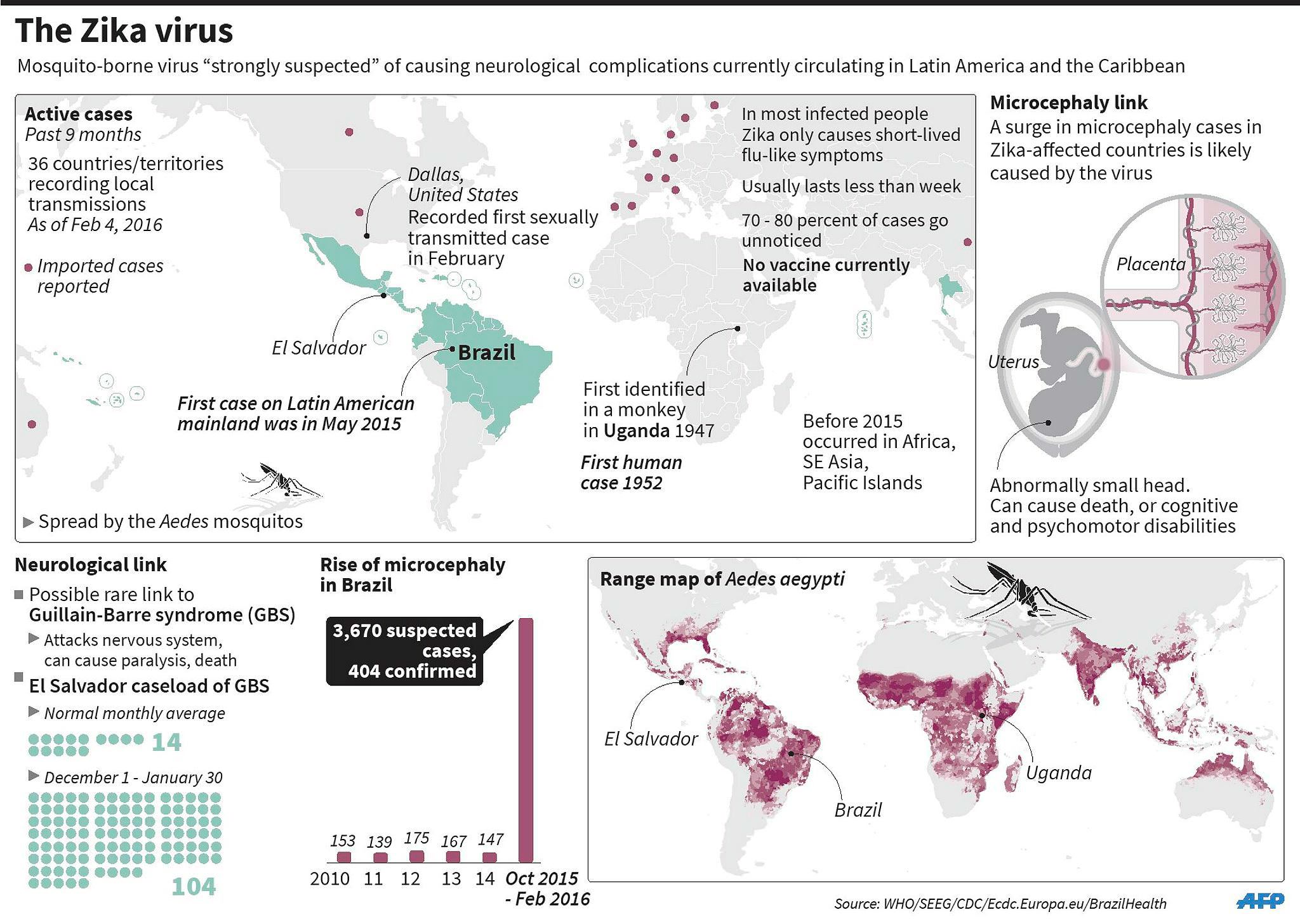 The largest share of the survey's respondents, none of whom were identified, were only recommending ways employees can avoid mosquito bites or inform themselves via the U.S. Centers for Disease Control and Prevention (CDC) or the World Health Organization (WHO). Multinational companies contacted separately by Reuters showed a similar split over how to respond to the virus's rapid spread in Latin America and the Caribbean. While airlines and cruise ship operators have yet to report declines in bookings because of the disease, that may be in store if the virus lingers, Credit Suisse analyst Julie Yates said in a research note on Thursday.
In line with CDC guidance, Wal Mart Stores Inc, American Express Co and snack-maker Mondelez International Inc have told workers who are pregnant or considering pregnancy to consult with health professionals before visiting any of the 26 countries and territories where Zika is active. The WHO declared an international emergency for Zika on Feb. 1, but much remains unknown about the virus. Chevron Corp, which has significant operations in Brazil and Venezuela, is among companies with a more expansive policy that allows any concerned employee to opt out of travel, spokesman Kurt Glaubitz said. By contrast, Ford Motor Co, General Motors Co and security products company Allegion PLC have told employees about precautions for travel but they have not publicly disclosed policy changes for women of child-bearing age.
U.S. companies have reacted faster than during past epidemics, such as the two-year-long outbreak of Ebola in West Africa that began in December 2013, because Zika is spreading in their backyard, said Christopher Pardee, manager of health intelligence at travel risk consultancy iJET. Some 41 percent of Americans aware of the disease have said they are less likely to take a trip to affected regions, a Reuters/Ipsos poll found a week ago.
The virus continues to spread around the world as a pregnant woman in Australia tested positive for the Zika virus after traveling overseas, the second such case this week, health officials said Friday. The woman, from Victoria state, was diagnosed with Zika after returning from a country where the mosquito-borne virus is prevalent, Victoria Health Minister Jill Hennessy said. She declined to release any other details about the case, including where the woman had traveled, citing patient privacy. Earlier this week, a pregnant woman in Queensland state was also diagnosed with Zika after traveling abroad. "My primary concern today is not about a public health risk, but a woman who is dealing with the anxiety of receiving news that is incredibly concerning," Hennessy told reporters.
Venezuela's President Nicolas Maduro said on Thursday that three people had died of complications linked to the mosquito-borne Zika virus and that suspected cases of Zika had risen to 5,221. Only one in five people infected with Zika experience illness and even then they are normally mild symptoms. The virus is still poorly understood by scientists and no proof yet exists to show it causes the birth deformations or any reported deaths. "We have 319 confirmed cases, of which unfortunately 68 presented complications and we've had three deaths due to Zika nationally," Maduro said during a broadcast on state television. He did not provide details of the deaths and did not mention the number of pregnant women thought to have the virus. The Health Ministry did not respond to earlier requests for information on the number of pregnant women with Zika. Maduro said the number of suspected cases had risen to 5,221 in the period between Nov. 5 and Feb. 8. The only previous public estimate last month said there were around 4,700 suspected cases. Doctors say Venezuela actually has a far greater incidence of Zika than publicly admitted and that the leftist government is not doing enough to combat the outbreak. Chronic product shortages mean even pain killers and insect repellent are hard to come by. Patients suffering Guillain Barre, an autoimmune syndrome that can cause paralysis and has been linked to Zika, are also struggling to find immunoglobulin for treatment. Maduro on Thursday night thanked Brazil, China, Cuba, India, and Iran for helping provide medicines. Doctors and non-governmental health organizations say they are monitoring dozens of pregnant women who think they might have suffered Zika during the first months of gestation. Epidemiologists say any potential cases of Zika-linked birth defects in babies would likely only come to light around April, given the virus is thought to have arrived in Venezuela in the last quarter of last year.
Airports are stepping up efforts to reduce populations of mosquitoes that transmit the Zika virus in order to prevent its spread, the U.N. aviation agency said Thursday. "The management of the outbreak is currently focused on reducing the populations of the Aedes mosquito that transmit the virus at airports [vector control]," the International Civil Aviation Organization (ICAO) said in a statement. Vector control refers to the spraying of insecticides or other pest control measures. The Montreal-based agency urged airlines and airport authorities to follow World Health Organization guidelines on the testing and use of insecticides for aircraft, including new guidance specifically related to the Zika virus.
Some 220,000 soldiers will hand out leaflets door-to-door across Brazil on Saturday ahead of a massive insecticide-spraying operation as the government tries to stem an outbreak of the mosquito-borne virus. "We have to protect the population, especially pregnant women, athletes and tourists who will come for the Olympic Games" in Rio de Janeiro in August, Defense Minister Aldo Rebelo said at a news conference Thursday. From Monday to Thursday, 50,000 soldiers accompanied by municipal health workers will spray homes with insecticides and larvicides to kill the Aedes aegypti mosquito, which transmits not only Zika, but also dengue, chikungunya and yellow fever, Rebelo said. Rebelo, formerly Brazil's sports minister, said the government efforts, coupled with winter weather during the Olympics, will ensure that Zika will be not be a problem during the Olympic Games. He added that the military has already sprayed tens of thousands of homes in Sao Paulo state, which has been the hardest-hit by dengue fever, an illness that killed 863 people in Brazil last year.