An Azerbaijani woman reporter became the highlight of a Turkish-funded mosque's inauguration ceremony on a rainy Saturday in the U.S.
The reporter got the spotlight not so much for the question she asked, but for shedding tears when asking President Recep Tayyip Erdoğan about his reaction to the 12 Azerbaijani soldiers just killed in the occupied Karabakh region.
Ganire Atasova, 36, from Azerbaijani ANS television was one of the dozens of journalists who tried to get close to Erdoğan as he neared the stage to deliver opening remarks for the Diyanet Center of America-a new Turkish social complex, including a mosque.
It was only minutes after she had heard the news that her nation had reclaimed land occupied by Armenia during clashes Friday and Saturday which killed a dozen Azerbaijani soldiers, and led her to push through the crowd and reach Erdoğan despite his security detail.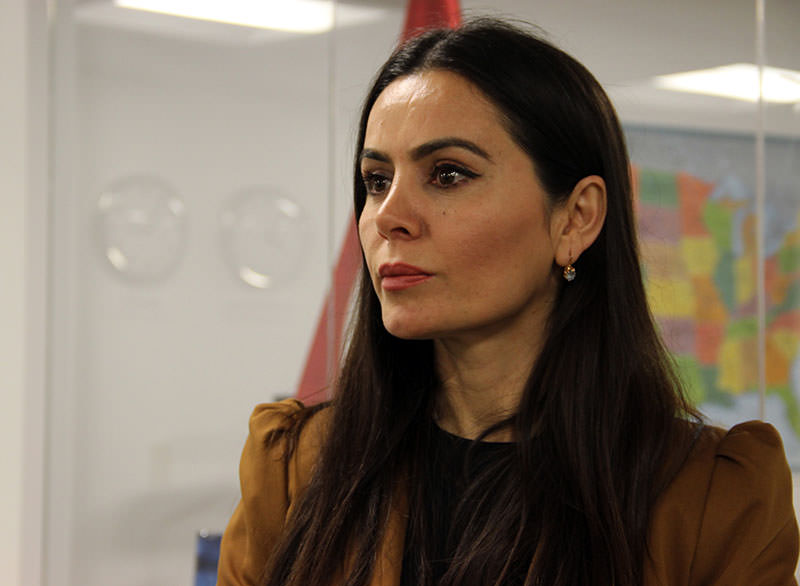 "When I heard the news and the moment I asked the president about the martyred soldiers, I was moved to tears," Atasova told Turkey's state-run news agency, Anadolu Agency (AA), in an exclusive interview.
"As a reporter I have to hide my feelings but bear in mind that I'm a mother, a woman, and I have two children, two sons. The soldiers who were martyred were my sons as well and I felt that pain."
Saying she felt the pain of the killed soldiers' mothers and sisters when she heard the news, Atasova stressed that she considers all sons and daughters of Azerbaijan as her own.
The patriotic reporter, who has not been home in five months, added it was even worse for her not to be with her own people on the day of such a huge loss.
Atasova said Azerbaijani media always reports emotionally whenever soldiers are killed, including Turkey's.
"Martyred soldiers are our lives, our blood, our family, and one of us. One's nation is above all and one should give up one's life for the nation if necessary," she added.
Thanking Erdoğan for answering her question carefully and sensitively, Atasova stated that he thereby showed the world that he understands the pain of Azerbaijani women and mothers who have lost their sons.
"The Azerbaijani people love Erdoğan because Turkey stands by Azerbaijan with every step it takes."
Minutes after Atasova asked her tearful question, images of her went viral in the media. She grew even more popular when Erdoğan took the stage and mentioned her in his speech.
"A little while ago, an Azerbaijani TV [reporter] asked me [about the killed soldiers], and I saw tears in her eyes," he said, referring to Atasova.
"Will it be possible for us to see tears in the eyes of the media in our country as well?"
Turkish Foreign Ministry has condemned Armenian attacks which have led to two days of fighting over the occupied Karabakh region.
"We condemn artillery fire and attacks which were started by Armenia against Azerbaijan on the night of April 1 along the contact line and [which] affected civil society," the ministry said in a statement on Saturday.
"We call upon Armenia to stick to the ceasefire and end to the clashes as soon as possible," the ministry added.
The ministry said there was a risk of similar clashes unless the Armenian occupation ends.
Azerbaijan reclaimed land occupied by Armenia during the clashes over Friday and Saturday which saw 12 Azerbaijani soldiers killed.
Azerbaijan's defense ministry said that its army had launched operations in the Agdere, Terter, Agdam, Hocavend and Fuzuli regions to protect civilian lives.
During the operation the Azerbaijani army reclaimed some strategic hills and residential zones.
Pro-Armenian militia occupied the Karabakh region of Azerbaijan in 1993.
Three U.N. Security Council Resolutions (853, 874 and 884), and United Nations General Assembly Resolutions 19/13 and 57/298 refer to Karabakh as being part of Azerbaijan. The Parliamentary Assembly of the Council of Europe refers to the region as being occupied by Armenian forces.