Hijackers in a Libyan plane diverted in Libya on Friday agreed to surrender, have been searched and taken into custody after long hours of negotiations with officials.
The Airbus A320 was flying inside Libya for state-owned airline Afriqiyah Airways with 118 people - 111 passengers and 7 crew - aboard, the reports said. The two hijackers, reportedly carrying two hand grenades, had threatened to blow the plane up. Maltese Prime Minister Joseph Muscat tweeted: "Informed of potential hijack situation of a #Libya internal flight diverted to #Malta. Security and emergency operations standing by -JM".
The hijackers first agreed to release the women and children from the plane roughly two hours after it was diverted to Malta. Muscat confirmed that 65 passengers were released from the plane. He later said that the remaining 44 passengers were also released, leaving only two hijackers and the crew on the plane.
The hijackers have claimed to be a supporter of Moamer Gadhafi, the Libyan autocrat who was overthrown in a 2013 revolt. They reportedly demanded the release of Saif al-Islam Gadhafi, who is in jail in Libya since Nov. 2011.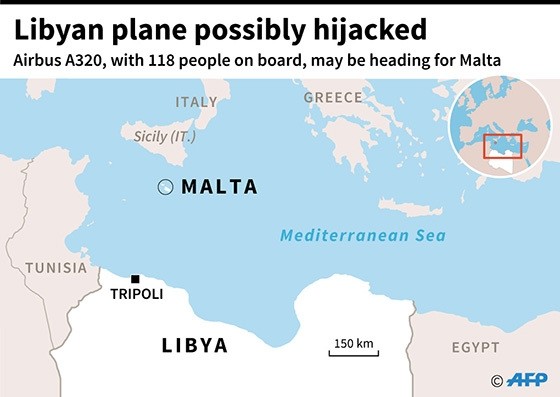 One of them has reportedly said that he was willing to let all the passengers go apart from the crew, if his demands were met. However, it is not known what his demands are at this stage, the Times of Malta reported.
Libya has been in a state of chaos since the 2011 overthrow of Gadhafi left warring militias battling for control of different parts of the country.
Forces loyal to a fledgling national unity government recently took control of the coastal city of Sirte, which had been a bastion for the Daesh terrorist organization since June 2015.
Western powers have pinned their hopes of containing terrorism in the energy-rich North African state on the government but it has failed to establish its authority over all of the country.
A rival authority rules the country's far east, backed by the forces under military strongman Marshal Khalifa Haftar, who have been battling terrorists in second city Benghazi.