---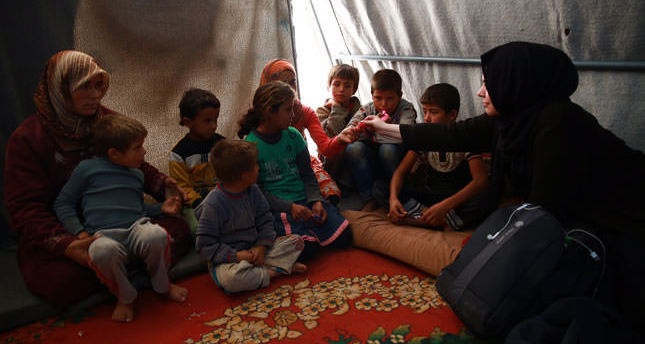 It's cold, really cold. Winter has not come yet, but still it is cold. I am looking for a moment to escape from the wind and go and sit in the car. But they were here yesterday and last night. They will be here tomorrow and tomorrow night unless… unless they are dead. Many will come and many will go unless this bloody war is over. This is Atme, just across the border from Turkey in Syria. It is one of the places where internally displaced Syrians who escaped from Bashar Assad's barrel bombs and his armed militias have held as a shelter. Two years ago the olive groves of Atme became a stopover to around 100 people who left their towns. It is now home to approximately 300,000 Syrians who are waiting along the border from Atme to Azaz. There are 25 camps between Bab al-Salam near Azaz and the Bab al-Hawa border crossing. Only in Atme are there more than 35,000 Syrians.
It's a place between Turkey and Syria, a place between heaven and hell. It's like purgatory. When it was summer, they were trying to survive under the scorching sun on the dusty ground. But winter is worse, the branches that provide shade and blankets that serve as walls under the sun fail to protect them from the freezing cold. There is a huge risk of freezing to death, but some say the conditions are better than other places, other camps like Yarmouk. I say nobody deserves that. The camps here lack in services, order, security and hygiene. Food shortages are another big problem. The camps in Turkey are like the Champs-Élysées when compared to the ones here. Tents, blankets and heaters fall short of meeting needs. However, when they are asked if they regret it and want to go back to four years ago, they say, "No, either Bashar or we will die."
The Turkish Red Crescent and Turkish nongovernmental organizations provide humanitarian aid to these displaced Syrians while the U.N. only makes advertisements only supplying tarps with the U.N. logo. At first, I did not want to believe that the U.N. does not help people in need, especially to prepare for winter, but the latest announcement from the U.N. World Food Programme (WFP) made me accept that. The WFP has stopped providing food vouchers for 1.7 million refugees in Jordan, Lebanon, Turkey, Iraq and Egypt while it has already cut rations for 4.25 million people in Syria. The WFP said they lack funds, ignoring the fact that hundreds of families are already hungry even though harsh winter conditions have not yet arrived.
Humanitarian volunteers of nongovernmental organizations, for example, the IHH Humanitarian Relief Foundation, provide help to 800,000 to 1 million people in Syria. When a dedicated organization is planned, the number of people who get help rises to 4 million to 5 million. They try their best to provide shelter, food, healthcare, education and even psychological support. Just in one bakery that they built in Reyhanlı in Hatay province, they bake 170,000 loaves of bread a day. They established 12 mills in Syria, nine of which are currently active. How can one nongovernmental organization do all of that? Found a coordination center to bring all the other volunteer nongovernmental organizations together and send aid every day even to Yarmouk, but the "mighty" U.N. lacks funds. Isn't it a shame? How come the volunteers of one nongovernmental organization do not give up carrying aid to people in need even though their friends have been kidnapped inside Syria while they are labeled as "terrorists" by pro-Israel media outlets and the "majestic" U.N.'s WFP unblushingly cut aid step by step every month.
I think the world is really bigger than five, as President Recep Tayyip Erdogan frequently says criticizing the structure and the functioning of the U.N. Security Council. The world is bigger than five with its good people with great hearts who do not care about energy issues, economic balances and strategic balances between world powers, but they have not discovered their potential yet. Until they fully realize their abilities, we will see more waiting rooms full of people in need in more purgatories.